Ancient and Modern Combine in Seoul, South Korea
Oct. 8, 2020
Experience ancient temples and cherry blossoms, neon lights and skyscrapers, in this city of contrasts.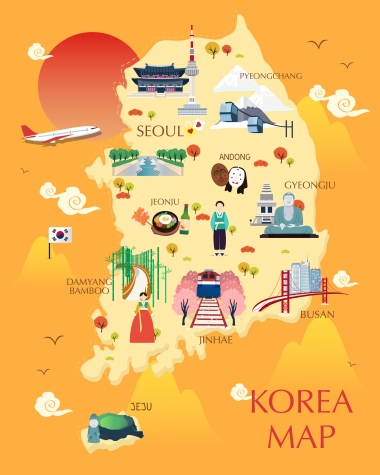 South Korea is the epitome of an East Asian culture that hasn't lost touch with its roots, while undergoing modernization. You will see ancient temples right next to skyscrapers, and the hustle and bustle of the city contrasting with the calm and soothing nature nearby. South Korea is a city where tradition and technology coexist and support each other.
General Overview
The capital of South Korea is Seoul, which is one of the largest and most densely populated metropolitan areas. Everywhere in Seoul, you will see the fantastic collision of old and new, with temples, fortresses, and palaces interspersed among skyscrapers and modern apartment blocks.
Outside the big cities, South Korea is famous for its natural beauty, with hot springs, national parks, and beaches where you can find locals spending their weekends.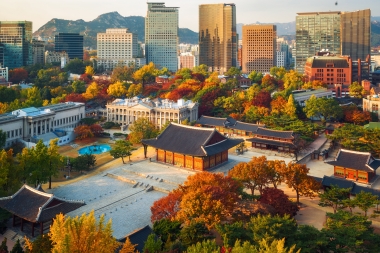 The national currency of South Korea is Won (₩), and Korean is the native language. A good percentage of the population knows English, so communicating with people should not be a significant barrier.
South Korea sits on approximately the same global latitude as Utah and Colorado, and experiences all four seasons, with warmer weather from May to August, and colder temperatures from November to February. If you go for a spring semester, you'll witness the cherry blossoms on display early April, that rival the more well-known occurrences in Japan.
Getting Around South Korea
The public transportation system in South Korea is generally considered to be among the best in the world. You'll have choices of buses, trains, and metros, all of which are affordable, clean, and punctual. You can also opt for taxis, but they cost more than taking local public transport.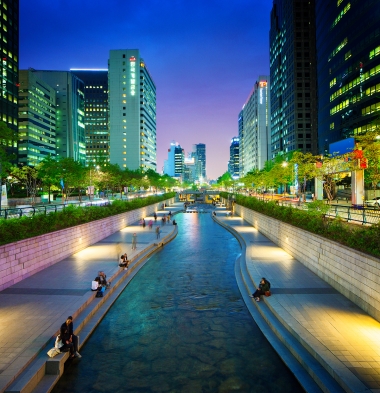 Even though Korean is the everyday language of South Korea, most street signs are also in English, making it very easy to travel throughout the country.
Traveling in South Korea
Outside of Seoul, South Korea has several other cities that should be on your to-do list:
Busan: Looking for beaches and seafood? Head to Busan, the second largest city in South Korea, famous for its temples, ports, markets, and surrounding nature.
Andong: Famous for its cultural richness, Andong is great for those who want to learn more about South Korean culture.
Gyeongju: Known for its war history and museums, Gyeongju is basically the total opposite off Seoul, with very few modern buildings or neon-lit streets.
Danyang: Great for those who are seeking adventure! Filled with lakes, rivers, caves, and lookout points with ziplining and paragliding.
What Seoul Is Famous For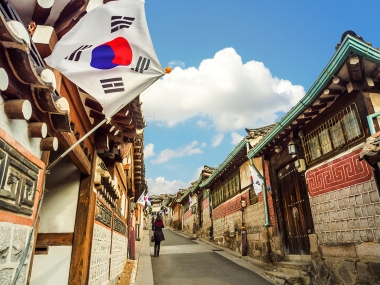 Fashion: Fashion plays a huge role in the modern Korean society, as celebrities and K-idols have made fashion an important part of people's daily lives. You will find some of the most amazing shopping centers and markets in Seoul, with designer names from around the world, and local brands famous in the country.
Food & Drinks: Seoul is known for its food and drinks, and the city hosts a culinary festival every year that attracts tourists from around the world. You will find tons of different ethnic and specialty foods in the shops and restaurants throughout this multicultural city. Check out some of the most popular restaurants in the Seoul, in the list below.
K-Pop: K-Pop has made a global impact, with K-Pop groups that are world-renowned. Seoul has live concerts all the time and is the best destination in the world for getting your K-Pop fix.   
Karaoke: South Korea was one of the first countries in the world to popularize karaoke, and it is still one of the most popular ways that South Korean people like to unwind and socialize. You will find karaoke bars everywhere around Seoul, and some of them are themed to add to the whole experience.
Parks & Hikes: Seoul is filled with parks and outdoor spaces you can go to for a hike or a stroll, if you're looking to get away from the city for a while.
Top Things To Do And Places To Visit In Seoul
One of the most fun parts of studying abroad is learning about all the amazing places you are going to visit ahead of time. To get you started, here is a list of places and sites that you should research in making your own personal Seoul bucket list: 
| Places To Visit In Seoul | Famous Places to Eat in Seoul |
| --- | --- |
| Gyeongbokgung Palace | Kwangjang Market |
| N Seoul Tower | Choigozip Hongdae |
| Myeong-dong | Bada Sikdang |
| Bukchon Hanok Village | Mugyodong Bugeokukjib |
| Changdeokgung | Yang Good |
| Insa-dong | Balwoo Gongyang |
| Lotte World | Jihwaja |
| Namsan | The Kitchen Salvatore Cuomo |
| Cheonggyecheon | Gusto Taco |
| Changgyeonggung Palace | 853 |
| Gangnam-gu | MoMo Café |
| Fortress Wall of Seoul | Jyoti Indian Restaurant |
| Gwangjang Market | Flavors |
| Deoksugung | Braai Republic |
|   | Kyochon Chicken Dongdaemun 1 |
Interested in Studying Abroad in Seoul, South Korea?