UA Welcomes Approximately 1,000 International Students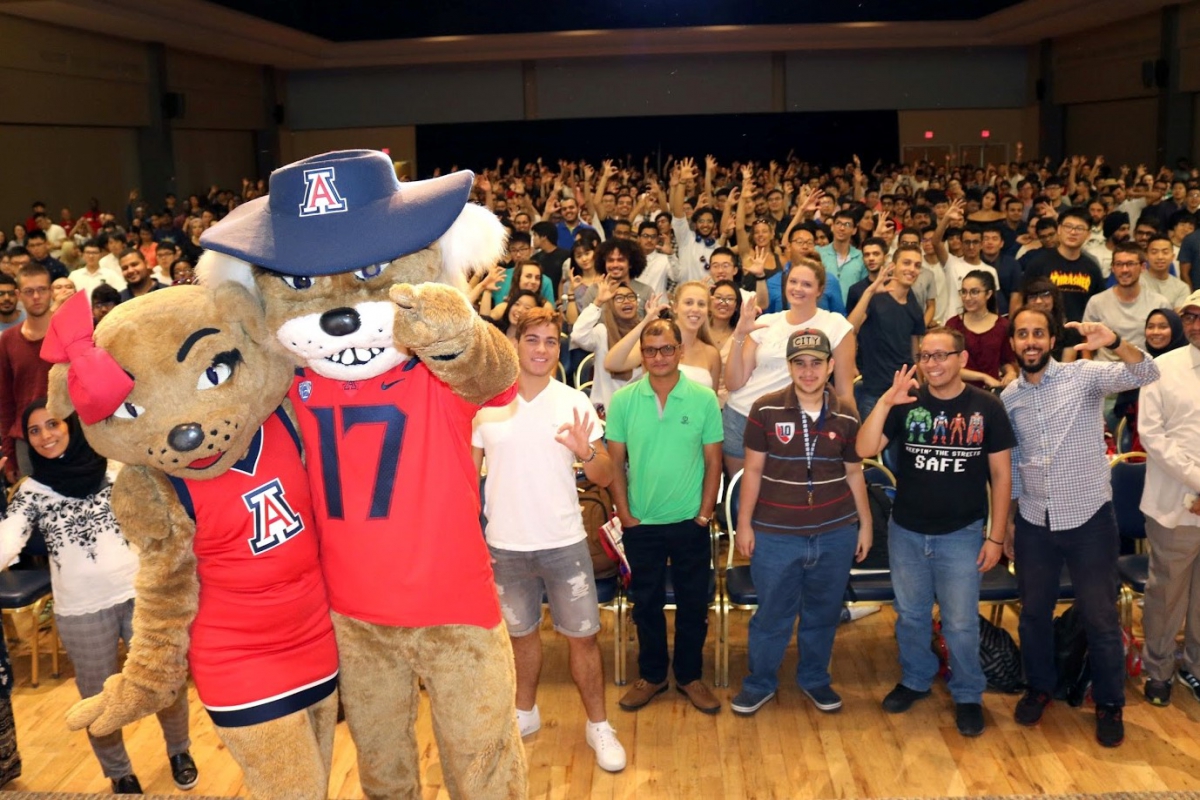 Dr. Robert C. Robbins welcomed roughly 1,000 international students to the University of Arizona for the fall 2017 semester during an energetic presentation at the Student Union Memorial Center Grand Ballroom.
"You've come from a long distance, many of you, maybe for the first time being away from home," said Robbins. "This is going to be a big transition. But I can tell you, you cannot have found a more hospitable, welcoming environment than the University of Arizona."
During the first day of International Student Orientation, students representing more than 100 countries connected over laughter and a visit from Wilbur and Wilma. Robbins made it clear the UA has an abundance of activities, and he encouraged international students to get involved.
"Football season is coming up very soon. That's going to be an exciting time across campus. And then there's basketball and baseball and softball— so many sports to get involved in," he said. "The school spirit and the dedication: you'll be able to feel it on campus. Hopefully with all your support we can win more football games than we did last year!"
UA Athletic Director Dave Heeke also tapped into the global wildcat spirit during an event at Gallagher Theater, explaining the "Bear Down" chant, the wildcat nickname and the famous "WC" hand symbol.
"Interestingly enough, that symbol was created by an international student: one of our swimmers from England, so it is something maybe all of you can identify with," said Heeke. "This is a world-class university with people from all over the world, and we're excited that we all share in these traditions"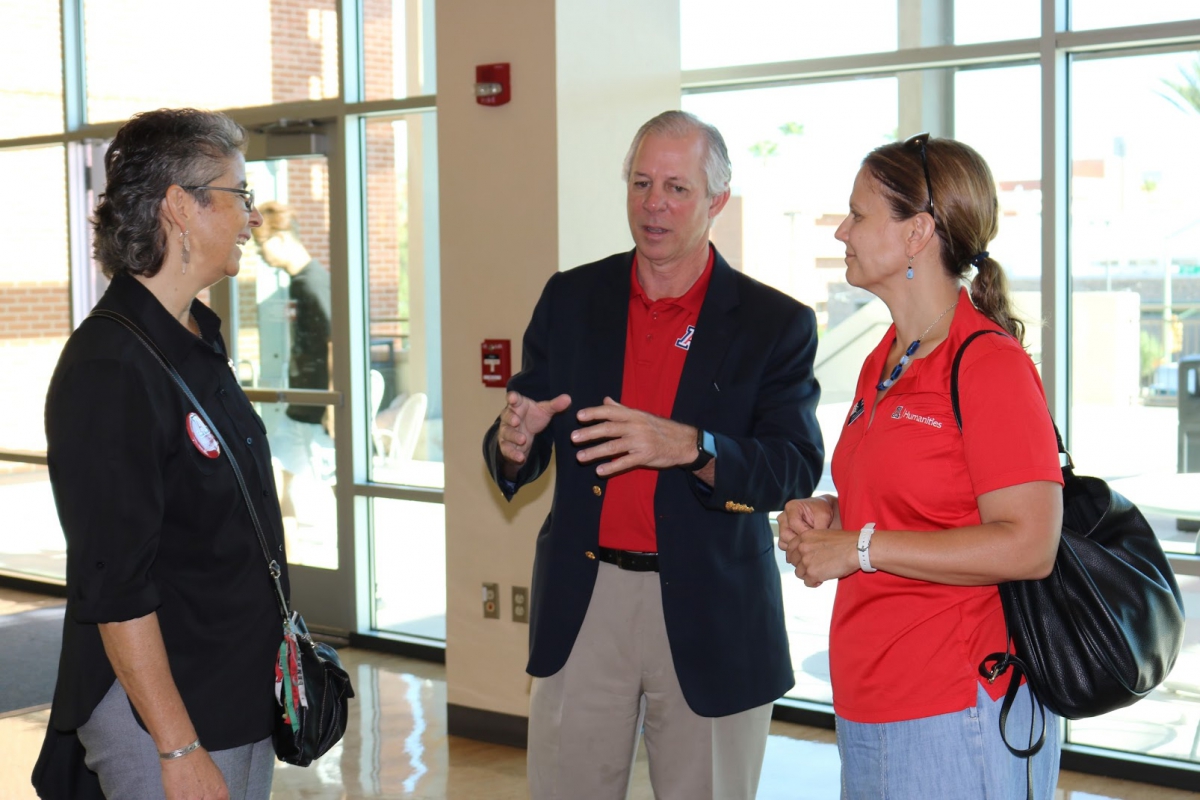 Organized by International Student Services within the UA Office of Global Initiatives (OGI), International Student Orientation included three days of activities, ranging from informational sessions and campus tours, to pancake breakfasts and a party at the Rec Center.
"The most exciting part of your career, your adventure, at the University of Arizona is learning, but also meeting people from all over the world," said Suzanne Panferov, interim vice president of OGI as she addressed the newly-enrolled Wildcats. "We have about 40,000 students at the University of Arizona. Of that, about 4,000 are international, so you have a really important role here to help us learn about the world."
Upon speaking with several international students from the fall class, a common theme emerged.
"Six years ago, I came to the UA as an exchange student studying political philosophy," said Ron Chau, a doctoral student from Australia. "I changed careers, and returned to the UA to study existential psychology because the UA is one of the best schools for that."
Leticia Vazquez Bengochea, a graduate student from Spain, also returned to the UA. "I came to the UA two years ago to study chemical engineering for a semester as an exchange student, and now I am here for my master's degree," she said. "I loved the UA so much that I wanted to come back."
Robbins acknowledged the trend of declining international student numbers across the United States, but also assured students they are welcome at the UA.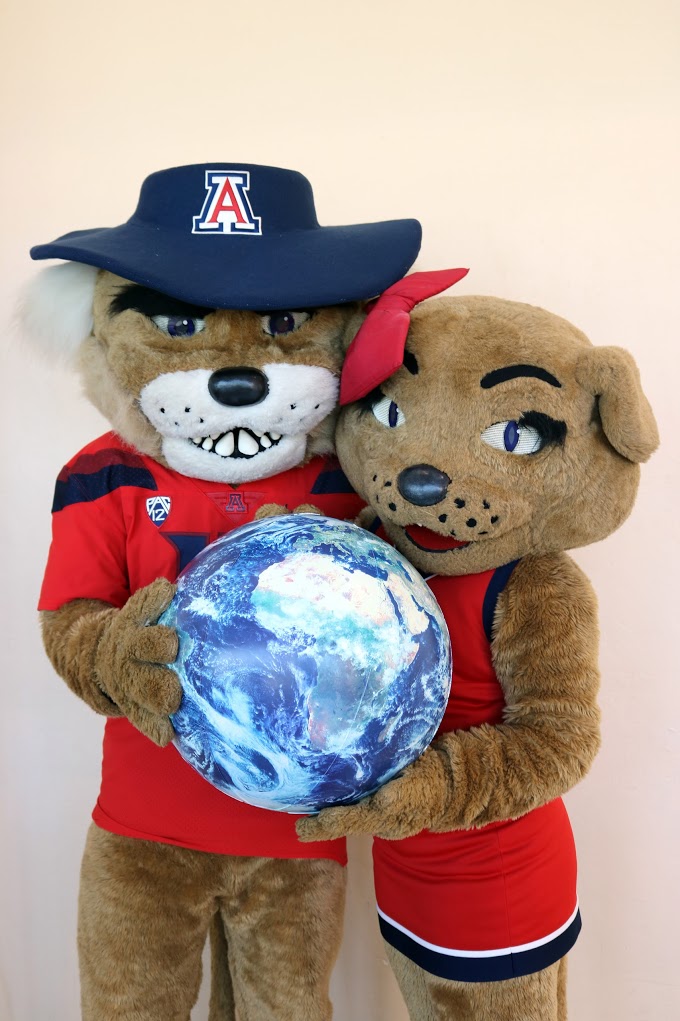 "Because of a variety of different political events, the number of international students coming to universities across the United States is down, and that's unfortunate," he said. "But I am very confident that you are going to have a great experience here," he told the crowd.
Over the past 10 years, the UA has experienced a significant uptick in international students, with roughly 2,300 in 2007 to approximately 4,000 today.
Beyond the invaluable academic and cultural contributions international students bring to the community, they also make a deep economic impact.
The latest figures from NAFSA: Association of International Educators, a non-profit dedicated to international education, estimate that international students from the UA contribute $162.4 million to the economy and support 2,442 jobs annually. The highest percentage of spending occurs in higher education, followed by accommodation, dining and retail.
Robbins recognized that globalization is fueling rapid change in all aspects of students' lives, from the way they shop to the way they travel, and he highlighted the importance of international education in staying ahead of the curve.
"The world is changing rapidly, and you are part of it. You are part of this globalization that's sweeping the world at a very rapid rate, and the University of Arizona is really embracing this change," he said.
"The strength of our campus is built on diversity and you represent a geographically diverse group. I look forward to visiting with as many of you as I can. I'll be out there. I'll be involved. Bear with it. Bear down. Go Wildcats!"
---
About International Student Services
Housed within the UA Office of Global Initiatives, International Student Services or ISS assists with immigration guidance, academic resources, cultural connections, and social events. For more information about specific programs, visit https://global.arizona.edu/international-students.
---
Pictured above: Joanne Lagasse-Long, director of International Student Services, Dr. Robert C. Robbins, president of the University of Arizona, and Suzanne Panferov, interim vice president of Global Initiatives. Photos by Christine Scheer.
Take a look at a video from inside the International Student Orientation party at the Rec Center: