UA Study Abroad Student Spotlight
UA Study Abroad is excited to announce Bryn Sharp as our latest Student Spotlight! Read on to learn about her experience in the Arizona in Viña del Mar program.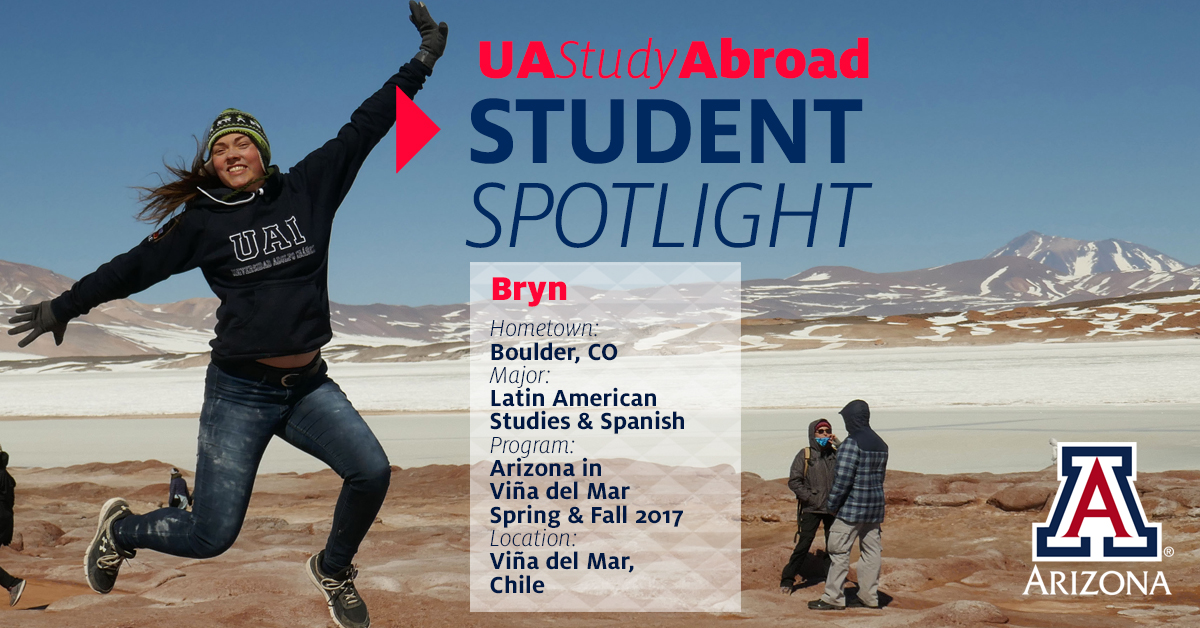 Why did you decide to study in Chile?
Being a Latin American Studies major, one of the biggest things that initially attracted me to Chile was how little I knew about a country that, by definition, falls into my field of study. I wanted to increase my knowledge of the region while gaining hands-on experience with the culture and society, so I decided to study abroad. At first, I was only planning on living in Chile for one semester. However, after less than a month of being in a region full of deserts, mountains, coastlines, rolling hills, and culture-rich cities, Chile had captured my heart. I extended my program to a full year, and I think that is one of the best life decisions I have ever made.
What is your best memory of the program?
One opportunity that presented itself to me was a collaboration with a local ecotourism group called Namuntu Trekking. Designated the company's official photographer, I accompanied them on weekly treks where I was privileged enough to experience parts of the country's natural environment that are available to very few people. Through my collaboration with this group, I was able to apply my photography toward environmental awareness, discover unknown places, and make life-long friends.
How did the program prepare you for future professional goals?
Study abroad gave me the opportunity to apply what I had learned in the classroom to the real world. It is one thing to read a book or listen to a lecture about Latin America, but it is incomparable to experiencing first-hand the material that most will only receive through a material lens. Study abroad helped me identify my deepest passions in the field of Latin American Studies – urban development and environmental protection – and develop the application of photography to these subjects. Study abroad helped me set myself on a stronger path to achieve my future professional, academic, and personal goals.
Where would you like to travel next? Anywhere and everywhere! The world is a book, and I have yet to turn the first page.
---
About the Arizona in Viña del Mar program:
Arizona in Viña del Mar allows for the fusion of Spanish language and Chilean culture in the beautiful country of Chile, situated between the Andes and the Pacific Ocean. Learn local modismos with your Chilean host family and explore the twin cities of Viña and Valpo during this semester-long experience.
About UA Study Abroad:
UA Study Abroad in the Office of Global Initiatives inspires students to make learning their own adventure. We offer more than a hundred programs across dozens of countries, with offerings that span one week to one year. Start your program search here.