UA Expands International Relationships at Global Partner Day
For the third straight year, the UA expanded strategic international relationships at Global Partner Day, hosted by the Office of Global Initiatives in partnership with the Office of International Education.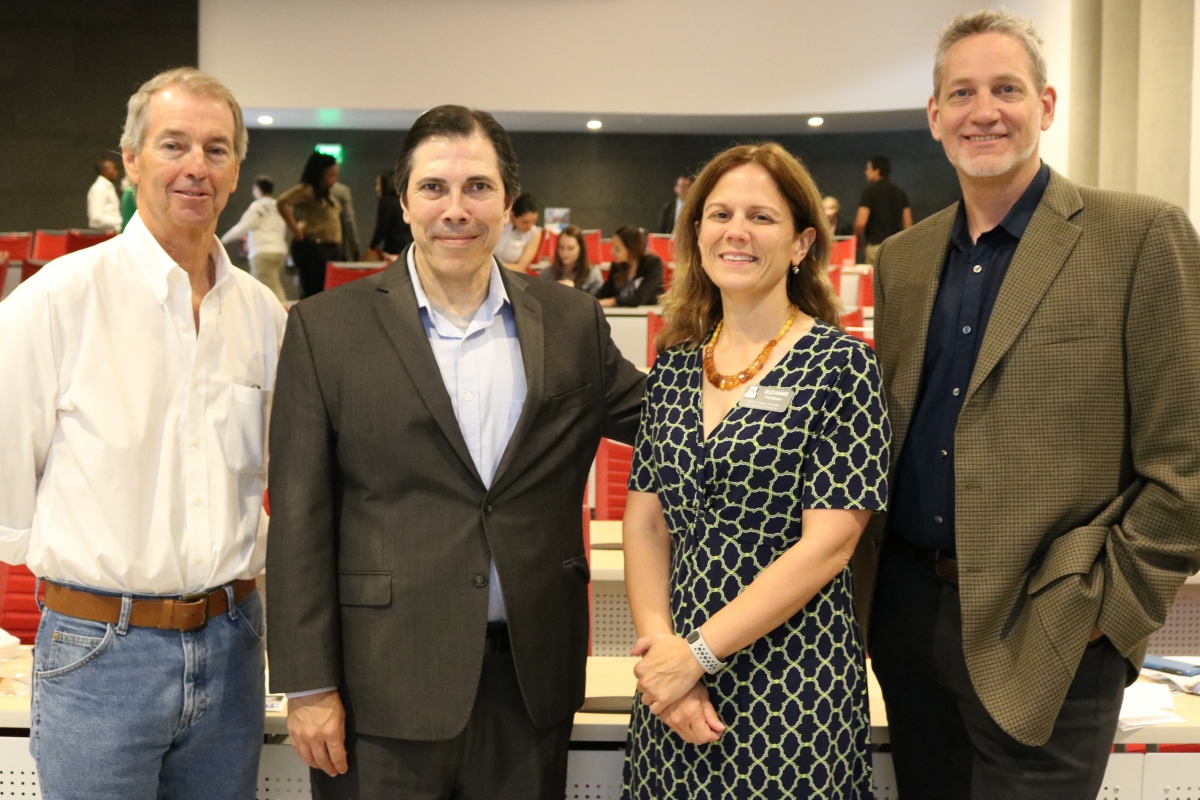 Representatives from universities spanning from Australia to Brazil connected with UA faculty and staff in Tucson during a series of networking events, interactive lectures, and campus tours— creating new pathways to collaboration.
Starting with a welcome reception at Flandrau Science Center and Planetarium, longstanding partners learned about the latest UA initiatives, while new partners discussed research and student mobility programs designed to advance education that transcends countries.
"Global Partner Day is an important event because it's a chance to showcase the University of Arizona to our international partners and for our international partners to have a chance to network with each other and see areas of the university they haven't seen before," said Suzanne Panferov, interim vice president of the Office of Global Initiatives. "It's also crucial for us to learn about what's going on in the world of initiatives in international education."
Thirteen partners from nine countries agreed that the UA's first-class research platform, innovative programs, and renowned campus provide great opportunities for the strongest students from their institutions. UA students also stand to gain advanced intercultural competency skills by connecting with international peers, providing a solid footing for today's global marketplace.
Building on the idea of preparing students to thrive in an increasingly international workforce, Remy Arteaga, director of the UA's McGuire Center for Entrepreneurship, provided the keynote address for Global Partner Day at the Environment and Natural Resources 2 Building. Discussing global entrepreneurship education, Arteaga highlighted potential growth areas around the world for start-ups, but also cautioned that development must be approached mindfully.
"Entrepreneurship is all over the world, and we want students to understand the opportunities, but they must also recognize cultural differences," he said.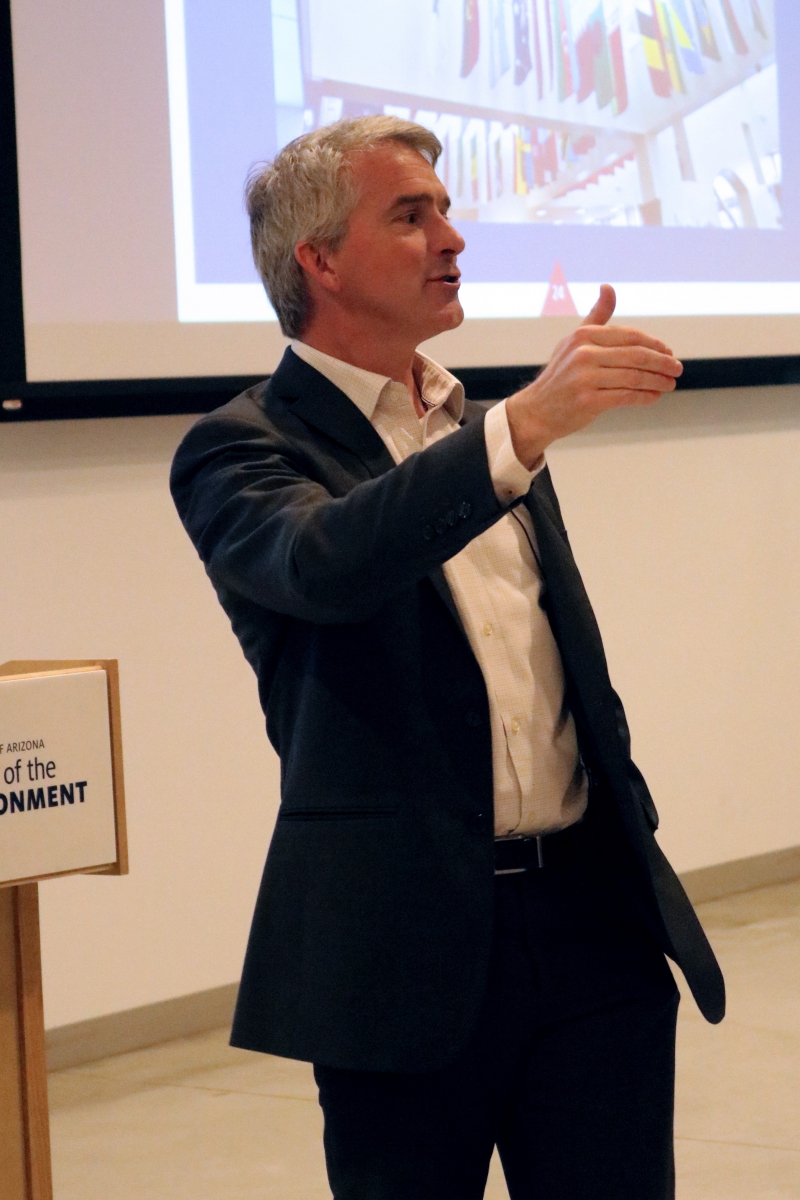 The Office of International Education hopes to bridge cultural gaps with the Global Micro-Campus Network, an initiative they revealed to the university community during Global Partner Day. Micro-campuses are UA spaces at partner universities that enable the delivery of collaborative UA degree programs to local students, addressing global demand for higher education.
Administrators from the American University of Phnom Penh attended Global Partner Day to discuss the current micro-campus at their institution in Cambodia.
"I enjoyed my time at the UA immensely," said Kenneth Dunn, president of the American University of Phnom Penh. "We see micro-campuses as a major game changer for us. Our students take an international approach, and we see the UA experience as very important for their development."
Gary Rhoades, director of the UA's Center for the Study of Higher Education and Brent White, vice provost of international education at the UA, unveiled research behind the micro-campus model and plans for its expansion.
With agreements already in place for micro-campuses at 13 partner universities, the UA is on track to reach its target of 25 or more micro-campuses in three years, capable of educating more than 25,000 global students abroad, while also providing mobility and research opportunities for UA students and faculty.
Ash Scheder Black with the UA Office of Global Initiatives also shared his model for developing the next generation of culturally competent individuals through the program Tech.Global, of which he serves as executive director. The 100% Engagement experience allows students to embrace tech challenges as they work with various coding languages to master application design and cybersecurity principles— and even create virtual reality environments.
Participating students have a strong desire to explore the world through technology, and Black inspired international partners to consider hosting similar programs in order to foster a global network of collaboration.
Following presentations at ENR2, international partners got a better feel for the UA with a tour of campus, including the Richard F. Caris Mirror Laboratory where scientists and engineers make giant, lightweight mirrors of unprecedented power for a new generation of optical telescopes.
"The campus is absolutely lovely, and it has great facilities," said Dina Abdul Rahman with Lebanese American University. "We are glad to sign an agreement with the UA, and we are excited to send our students here. It's important for us to be at Global Partner Day to get to know the community that our students will be visiting."
A representative from the University of Natural Resources and Life Sciences of Austria, Andre Hackelberg, echoed that sentiment: "I am so impressed with everything at the University of Arizona," he said. "I am here to hopefully boost the student exchange rate between our two universities."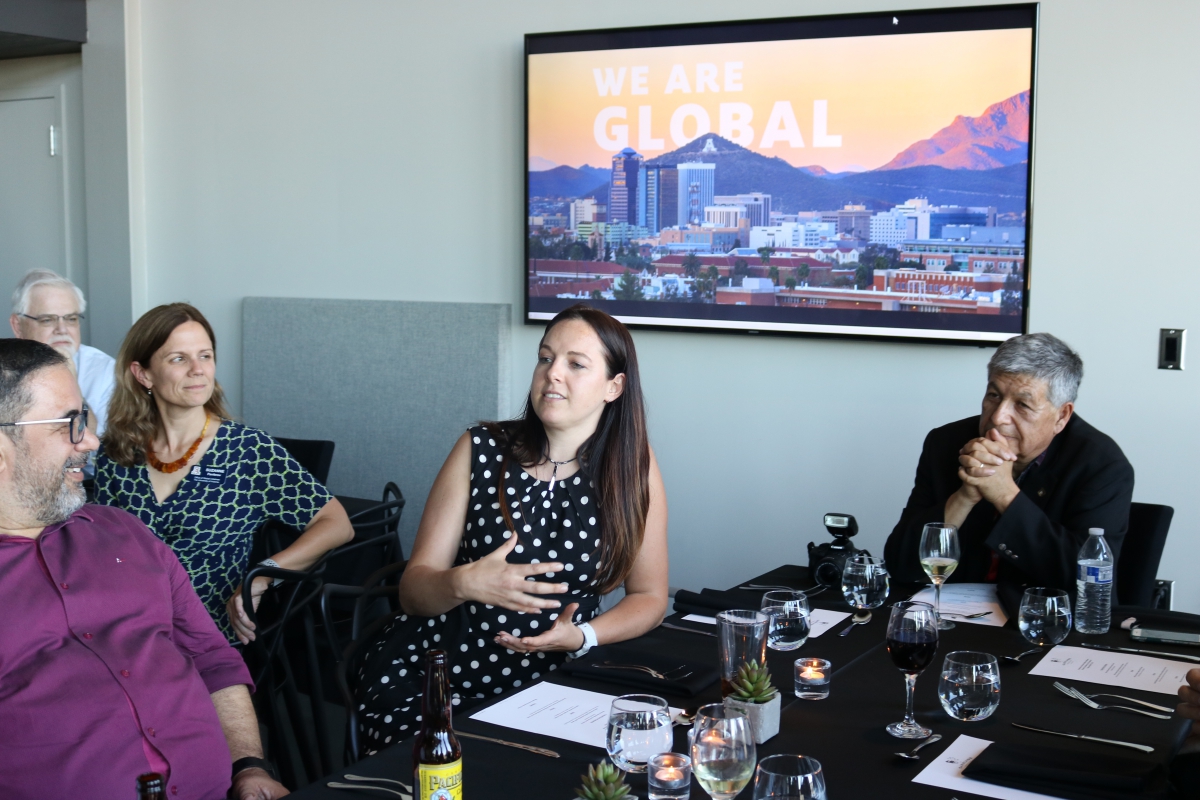 Brazilian partners also visited the UA, affirming their decades-long commitment to the university.
"We have 24 campuses in 24 cities," said José Celco Freire, Junior, associate provost for international affairs at São Paulo State University. "We are here to finalize a strategic partnership and are very happy to foster our strategic cooperation with the UA."
The director of United Kingdom-based Kaya Responsible Travel, a volunteer and internship placement organization, said she was excited to learn about experiential learning options through UA Study Abroad. The model provides opportunities to apply classroom learning to real-world challenges abroad through service learning, internships, research, field work, and clinical shadowing.
"We are a new partner to the UA, and also do service learning in 29 countries around the world," said Heilwig Jones, director of Kaya Responsible Travel. "We are looking at ways to increase engagement with the UA, and we see such potential. It's great to bring an experiential edge to study abroad."
While new partners navigated ways to collaborate with the UA, established partners discussed ways to advance their relationships, creating avenues to connect the strongest students and scholars from around the world.
"We are a longstanding partner of the UA— 10 years of interaction," said Lawrence Taylor of Ireland's Maynooth University. "After all these years, we are going full-steam ahead with more areas of collaboration."
Members from the National Autonomous University of Mexico (UNAM), the largest university system in Latin America of which the UA houses a satellite office, said they were looking forward to working together for years to come.
"We are happy about the strong relationship we have with the UA," said Dr. Claudio A. Estrada Gasca, director of UNAM-Tucson. "I am a researcher from the Renewable Energy Institute of UNAM, so when I came here I thought we would primarily have a relationship based on science, but to my surprise this has turned out to be more of a social science relationship. I couldn't be more proud of the 30-year partnership UNAM has had with the UA."
---
For an inside look at 2017 Global Partner Day, view these videos (Office of Global Initiatives).