UA Develops Precision Agriculture Seminar for International Visitors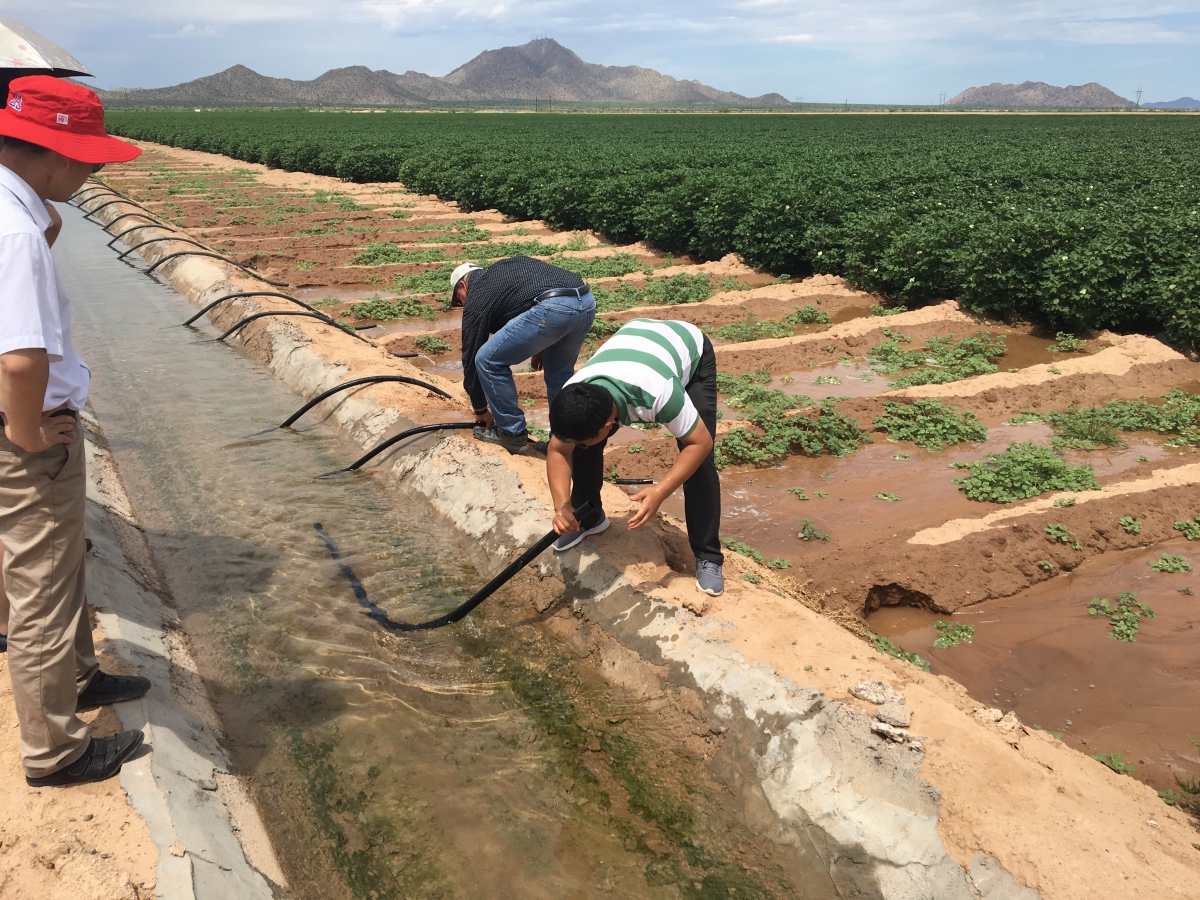 Examining a cotton field supported by underground irrigation, a delegation from China experienced the vital nature of precision agriculture in the dry lands of Arizona.
The practice uses customized technology to ensure that soil and crops receive precise care. When the application is maximized, crops achieve optimal health, leading to increased sustainability and profitability.
It is a concept University of Arizona (UA) researchers know well.
For two weeks this summer, they presented their expertise as they guided scientists from China's Ministry of Agriculture through farms, research centers, and equipment plants. The short-term seminar provided the delegation with a first-hand account of how crops grow efficiently in Arizona.
"The UA offers a unique perspective on precision agriculture because of our location in the Southwest where we grow crops 12 months out of the year," said Dr. Donald C. Slack, Professor of Agricultural and Biosystems Engineering, Watershed Management, and Arid Lands Resources Sciences and Faculty Fellow in the UA Office of Global Initiatives. "In Arizona we grow corn, wheat, and sorghum. We also grow crops like cotton, as well as a wide variety of vegetable and fruit crops, so we have more breadth and depth in what we can offer than many other locations."
The Precision Agriculture seminar was born when Slack applied for and received a grant from the US Department of Agriculture (USDA) Foreign Agricultural Service (FAS).
"We have a very close relationship with the USDA in that they provide funds and research opportunities for graduate students at the UA," said Slack. "The UA also has very active agricultural research centers, including the Maricopa Agricultural Center which is co-located with the USDA Arid Land Agricultural Research Center. A big component of what they do there is precision agriculture applied to irrigated agricultural systems."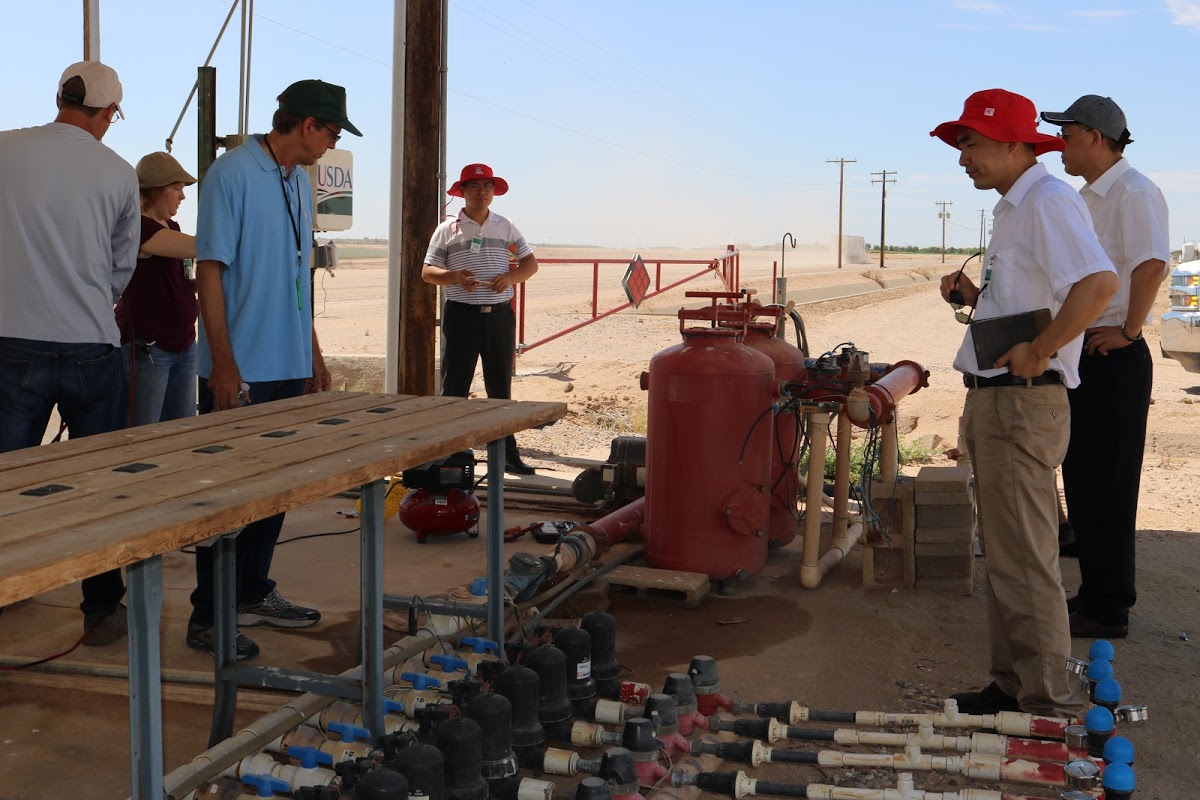 The delegation from China spent several days at the Maricopa Agricultural Center learning about site-specific nutrient management, precision water application, and advances in agricultural machinery.
Dr. Kevin F. Bronson, a research soil scientist with the USDA in Maricopa, guided the delegation through a cotton field sustained by an underground irrigation system. A frequent leader of international tours, he gives field presentations and customized lectures with a particular takeaway in mind.
"I like to show international guests that our research on efficient crop production and irrigation use is important, and hopefully that encourages them," said Bronson. "Maybe they will also gain insight about some of the technologies we use like buried-drip irrigation, which is very efficient. The losses are very low and the efficiency is very high. Perhaps they'll be interested in trying it back in China."
In addition to the site in Maricopa, the UA has connections to the USDA Southwest Watershed Research Center, which houses technology to conserve water and soil in arid lands. "This facility is located near the UA in Tucson, and I currently have two graduate students working with scientists there," said Slack. "We also have a very active operation at the Yuma Agricultural Center."
This UA-owned and operated center in Yuma is comprised of two sites: A valley farm contains crops such as cotton, small grains, lettuce, and broccoli, while a mesa farm is focused exclusively on citrus production.
Beyond the research centers in Arizona, Slack introduced the Chinese delegation to John Deere headquarters in Moline, Illinois and Kimberly Farm, a corn and soybean cultivator in Maxwell, Iowa.
China's President Xi Jinping visited John Deere headquarters and Kimberly Farm himself in 2016 to learn about farming technologies amid an agricultural impasse in his country. With an expansive population and a respectively small percentage of arable land, China is seeking ways to increase agricultural productivity, while preventing desertification and pollution.
"I hope to return home with basic background knowledge of precision agriculture from the most developed country in the world," said Anning Li, a delegation member from China's Ministry of Agriculture. "The system in the US is very organized and we have acquired knowledge about how the USDA operates, which is also very useful."
Upon the delegation's initial arrival in the US, Slack welcomed them to Washington, DC, accompanying them to central USDA FAS headquarters where they learned about the organization's structure.
"I hope the delegation understood what is going on at the UA in terms of precision agriculture research, the breadth and depth of what we do, and how we work with the USDA," said Slack. "I also hope they gained an understanding of the level of the development of precision agriculture equipment with companies such as John Deere."
In his additional role as Faculty Fellow with the UA Office of Global Initiatives, Slack has enjoyed hosting international guests for decades.
"We've had visitors from China, Turkey, Egypt, and India. Generally speaking, they come for short-term training or study tours from one week to one month. I have been involved in hosting international visitors for at least 25 years here at the UA."