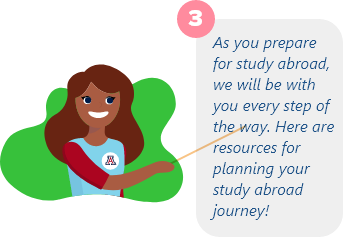 Getting Started: Plan Ahead for Study Abroad!
Planning to study abroad is an exciting time! If you are curious about the process, you can use this great overview to
Start Your Journey!
Health and safety
are the most important aspects of travel abroad! Due to COVID-19, travel is being considered very carefully, but you can stay up-to-date on the status of your study abroad program by communicating with your Study Abroad Coordinator. Study Abroad has a breadth of health and safety resources available, from full-time Global Travel staff with expertise in international health, safety and security, to a risk monitoring platform which sends students alerts, and a 24/7 emergency response system.
Are you wondering about how to finance study abroad? For many UA semester programs, you will pay your regular UA tuition and have access to your financial aid! Scholarships for study abroad are also available, and we have resources to help you
Build your Budget
and
Apply for Scholarships
! (Check out the Financial Aid Info Sessions this week!)