Student from Honduras Uses UA as Summer Base to Confront Global Challenges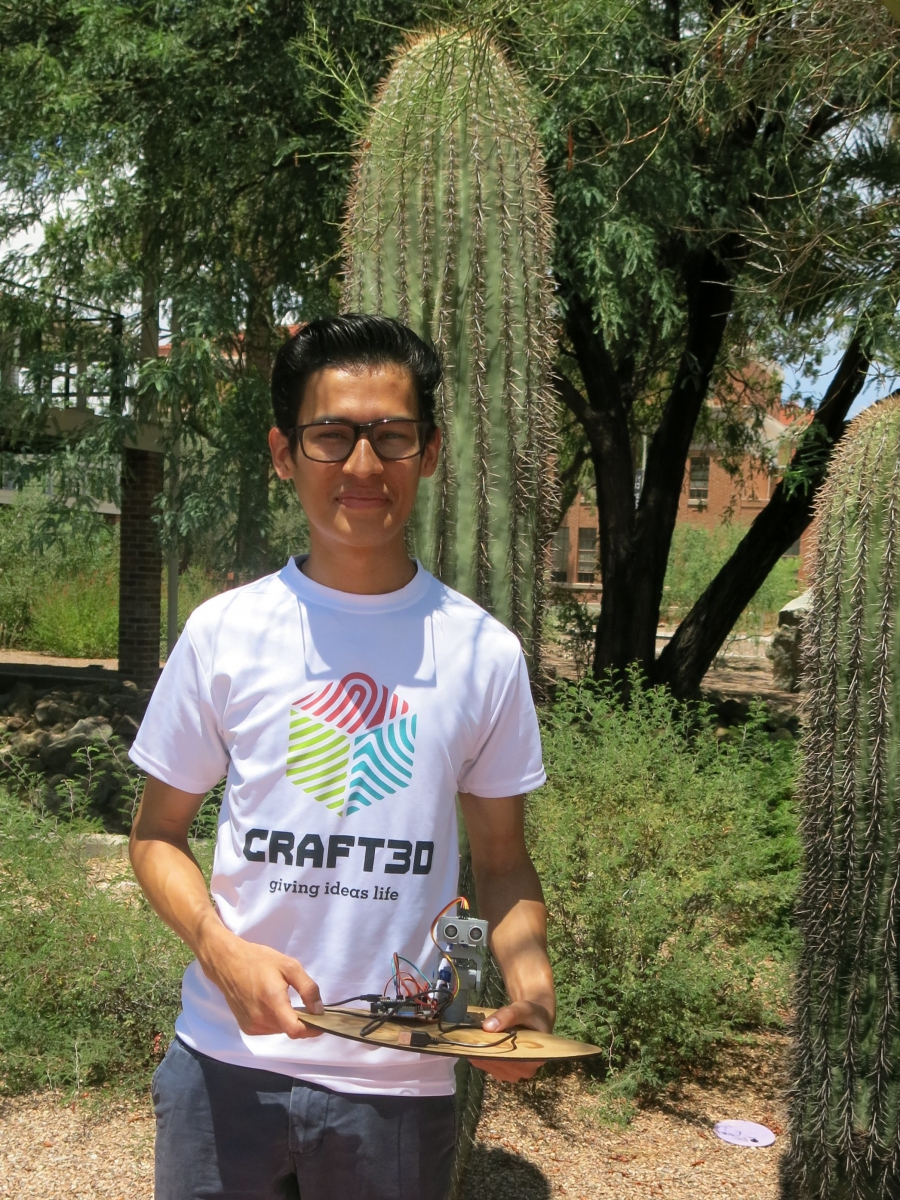 Upon meeting Gabriel Vasquez, one gets an immediate sense that he is on track to change the world. He's studying Mechatronics Engineering at Universidad Tecnológica Centroamericana in his home country of Honduras, and he has big plans to tackle social and environmental challenges on a global scale.
Right now, he's spending 10 weeks in Tucson as part of the UA Summer Program "A Learning Research Experience." Under the guidance of accomplished mentors, the program offers academic, professional, and cultural experiences for undergraduate students interested in the social sciences or STEM fields. Vasquez instantly clicked with his mentor, Peiwen "Perry" Li, a professor in the Department of Aerospace & Mechanical Engineering.
"When I first arrived at the UA, I met with Dr. Li and we had a two-hour chat. I told him about my background and interests, and he placed me on a research project involving 3D printed tubes for enhanced heat exchangers," said Vasquez. "3D printing is familiar to me, and now I can find new applications for it. I'm also interested in energy transfer, so this project fulfilled many of my interests."
This summer, Vasquez is exploring innovative designs for internal flow heat exchangers, specifically ones that are 3D printed, lowering the cost and waste associated with the manufacturing process.
"Heat exchangers are used almost everywhere. At a time when resources for energy generation are becoming less available, we cannot afford to waste energy. So, if you come up with a design to make heat exchangers more efficient, you are using energy more wisely. At the present development stage, it is very inexpensive to make the design we are using because it is 3D printed at the university. With 3D printing you are not limited by complex geometry and you waste far less material."
3D printing is one of the pillars of a startup Vasquez founded with his classmates in Honduras. The venture is called Craft3D, pronounced "crafted," and its mission is to employ technology to better the lives of Hondurans.
"We describe ourselves as an educational startup. We want to offer courses in robotics, electronics, and 3D printing," he said. "We want to give people the ability to build their own technology projects so Honduras is known not only for our coffee, but also as a country that exports technology."
Vasquez takes the concept seriously. He traveled to Tucson with a prototype of a 3D-printed robotic arm, designed with a specific audience in mind.
"This is meant to teach kids the principles of robotics and 3D printing. It was designed and made in Honduras. We named it K'Abot, a combination of the words "robot" and "k'ab" (the Mayan word for arm)."
In its 11th term, the award-winning UA Summer Program "A Learning Research Experience" emphasizes objective experimentation and graduate school preparation for international undergraduate students. Housed in the Office of Global Initiatives, the program is developed and operated each year by the Study Arizona: Short-Term Programs team, the members of which design programs that allow international students to study from a new perspective.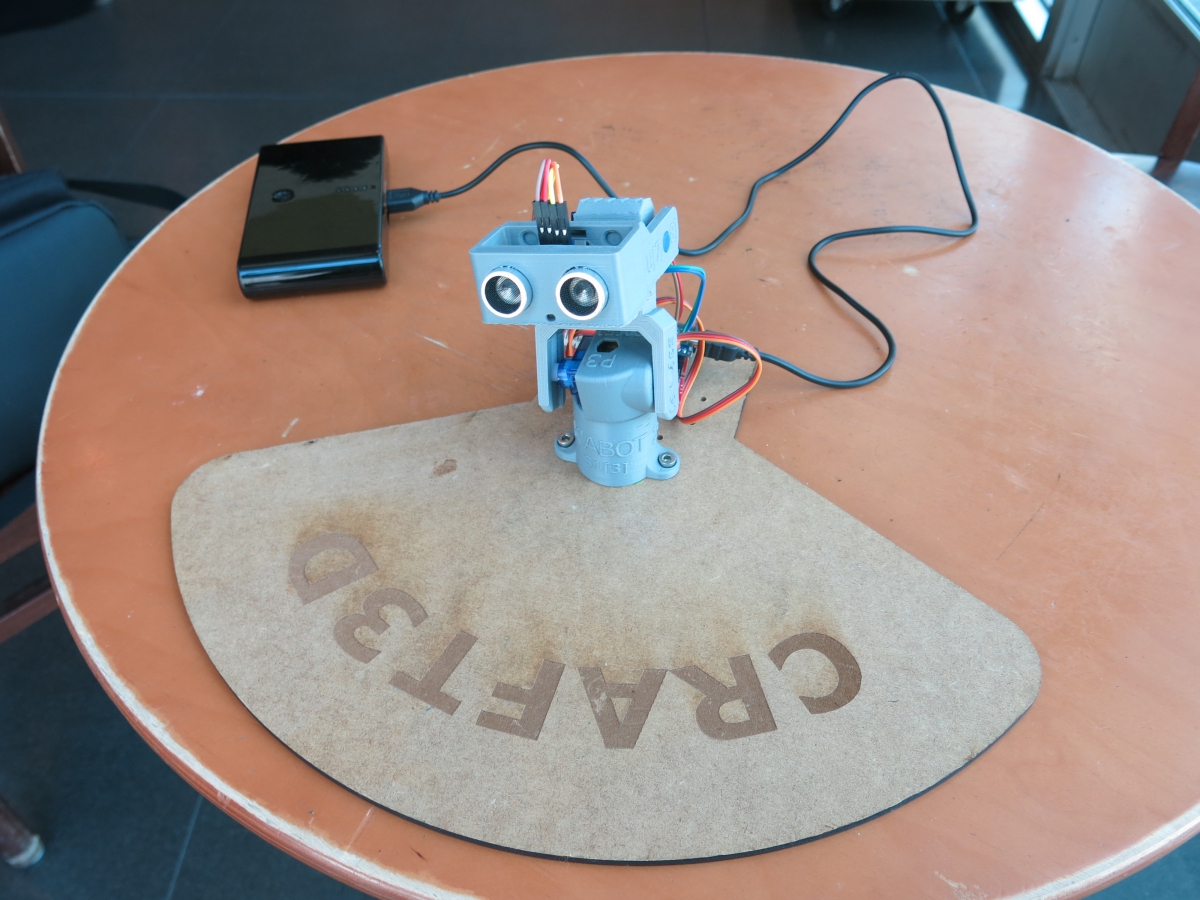 "The students participating in this program gain a comprehensive higher education experience, meaning they participate in research and academic activities, and they are also part of the UA and Tucson community," said Nadia Alvarez Mexia, director of Study Arizona: Short-Term Programs. "These students are immersed in a new culture, both inside and outside of the classroom."
In addition to faculty-mentored research, Study Arizona students take part in workshops with topics ranging from written and oral presentation skills, to scientific poster design and intercultural competency. They also attend a graduate school symposium where they learn best practices for continuing their education.
"I was involved in first-hand scientific research with a great mentor. The program also taught me how to apply for graduate school, which is a goal of mine. The personal experience was also great. I met many people from many backgrounds," Vasquez added.
"Students who take part in this type of program model hone their intercultural competency skills, and this guides them in their careers and lives," said Alvarez Mexia. "This is invaluable because we want students to develop the confidence to work in their academic field and also in any culture. This is increasingly important in today's international marketplace. We teach our students to be true global citizens."
Vasquez is happy he decided to take the plunge to study at the UA. "I had a classmate in Honduras who insisted on me doing the UA summer program a year or two ago," he said. "He kept insisting that I participate in the program, and I am very grateful to him. He coached me throughout the process."
As Vasquez prepares to present the findings from his summer project, he has a vision for his future— one that promotes a more harmonious world.
"I believe scientific research eliminates boundaries between countries, and I would like to become a science diplomat. The summer program was a great experience for that goal. I plan to research in other countries and apply for graduate school in the US, Japan, and China. I speak Spanish, English, Japanese, and am learning Chinese— I love learning new languages!"
---
About Study Arizona: Short-Term Programs
Study Arizona: Short-Term Programs, previously part of the Graduate College, is now housed within the UA Office of Global Initiatives as it expands program models. The Study Arizona team offers a variety of learning experiences in Tucson for international students, ranging from one to 10 weeks in duration. Innovative, flexible programs offer students the opportunity to experience their field of study from a new perspective that enables them to grow academically. The inclusive student mobility framework also provides students with the tools they need to grow from an intercultural competency perspective. For more information, please visit: https://global.arizona.edu/global-knowledge-network/studyarizona/short-term-programs