University of Arizona Signs Memorandum of Understanding with Mohammed VI Polytechnic University in Morocco
May 27, 2022
MoU opens the door for research and academic collaboration on the African continent
On May 19th, 2022, the University of Arizona, Tucson, Arizona, signed a Memorandum of Understanding (MoU) with Mohammed VI Polytechnic University (UM6P), Benguerir, Morocco. The MoU identifies key areas for developing joint programs and exploring opportunities for collaboration.
Signed by University of Arizona President Robert C. Robbins and Mohammed VI Polytechnic University President Hicham El Habti, the MoU reflects the commitment by both institutions to international academic cooperation and research and innovation in the region.
"I am very pleased to partner with UMP6 and establish the foundation for longstanding collaboration with this MoU," University of Arizona President Robert C. Robbins said. "During our visit, we were able to view the campus expansion and engage in meaningful conversation about the future and our capacity to jointly drive impact in critical areas such as water resource management, mining, and agriculture. I look forward to future dialogue and development of this partnership."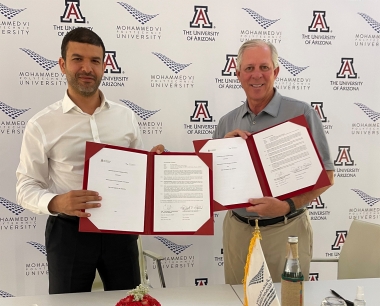 Strategic areas of mutual interest include mining, information and data science, machine learning, energy and batteries, and nursing. Additionally, agriculture and the long-term sustainable use of arid and semiarid lands and water resources management is a key area for potential cooperation.
The new MoU enables the exploration of joint research funding applications and activities, projects, seminars, conferences, and public lectures that facilitate the exchange of publications and academic materials.
"We had the pleasure to host President Robbins and the University of Arizona delegation to explore further collaboration opportunities," Mohammed VI Polytechnic University President Hicham El Habti said. "We have found naturally a number of common topics in which our researchers can collaborate together in the near future. I am personally looking forward to visiting the UA before the end of this year to move our discussions forward and make our relationship more meaningful to our students and researchers."
Academic collaboration under the new agreement may include education, research, training, and exchange of students and academic staff, opening the door for the possible development of a microcampus location as well as online and digital learning programs, and dual degree programs at undergraduate and graduate levels, and may include opportunities for collaborative certificate programs.  
Mohammed VI Polytechnic University, located in Benguerir, near Marrakech, was founded in 2017. With nearly 20,000 African students hosted on Moroccan territory, UM6P is oriented towards applied research and innovation and is engaged in economic and human development with a focus on Africa. UM6P's vision is to become a catalyst for the entire continent by offering the greatest number of Africans an innovation platform and by facilitating, through scholarship support, the integration of brilliant and deserving students.
---
Media contact:
David Richards, Executive Director, International Marketing and Communications
davidrichards@arizona.edu