UA International Students Visit Doolen Middle School
Jan. 7, 2016
International students at the University of Arizona (UA) participated in a panel session for more than 60 AVID students at Doolen Middle School in November during International Education Week. Advancement Via Individual Determination (AVID) is an initiative that focuses on improving college-readiness.  AVID's mission is "to close the achievement gap by preparing all students for college readiness and success in a global society."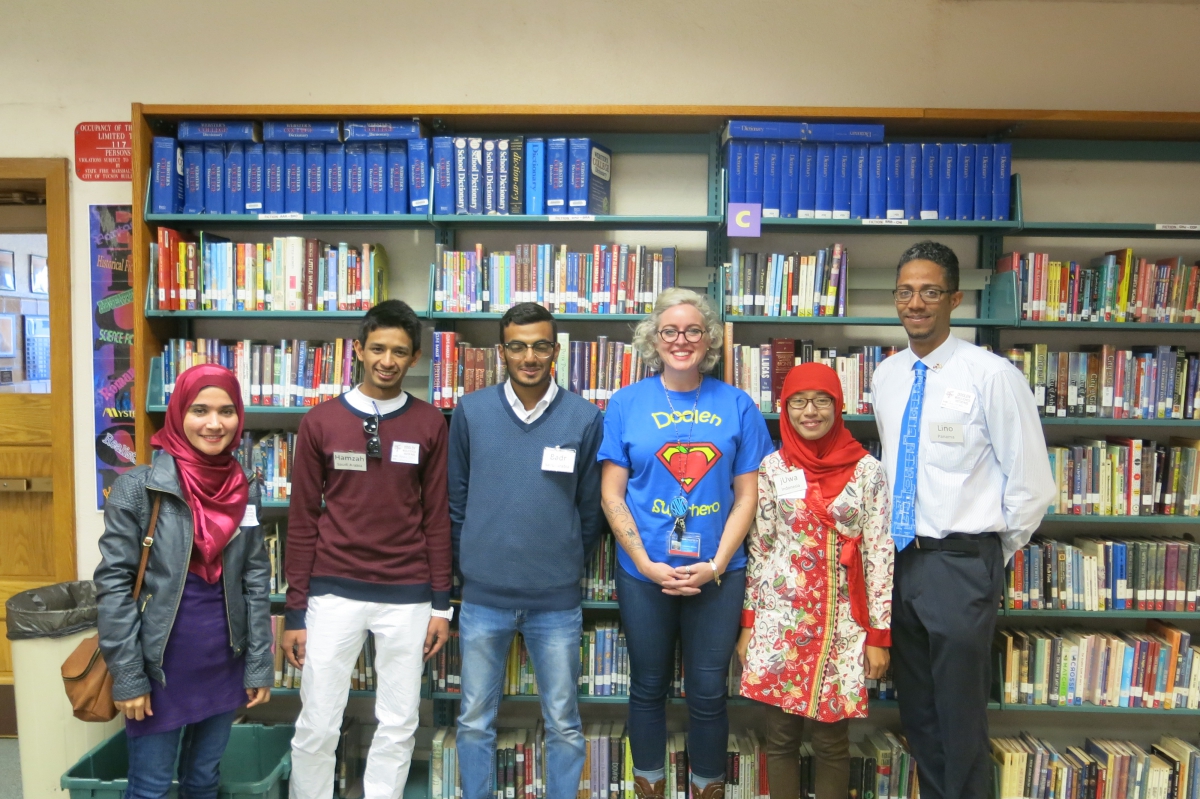 From Left to Right: Yalda Samih (Afghanistan) — Public Administration, Grad student, Fulbright recipient; Hamzah Sait (Saudi Arabia) — Geosciences, undergrad, ARAMCO scholarship recipient; Badr Badghaish (Saudi Arabia) — Geosciences, undergrad, ARAMCO scholarship recipient; Siti Juwariyah (Indonesia) — ESL, Grad student, Fulbright recipient; Lino Garibaldi (Panama) — Art Education, Grad student, Fulbright recipient
To help the AVID students move closer to this goal, a panel of five international students at the UA spoke during the hour-long session.  The UA students each gave a brief presentation highlighting their home country and explained why they chose to come to the UA, what they are studying at the UA, and what it has been like to come to the US, Arizona, and the UA.
The students hail from Panama, Indonesia, Afghanistan, and Saudi Arabia, and their majors range from Art Education to Geosciences.
The presentations were followed by a lively question and answer session, which saw many intriguing questions and illuminating answers.
Cate Wilcox, AVID teacher at Doolen Middle School, commented that her students benefit greatly from hearing international students' stories. "It's an amazing opportunity to be so close to the U of A here at Doolen, and the fact that we have access to international students…in such a diverse middle school is an excellent opportunity."
During the visit from the UA students, AVID students learned about some of the many course options available in college, heard about different countries and cultures, and learned about some of the opportunities and challenges that come with being a college student.
In addition, the UA international students had the opportunity to meaningfully engage with the Tucson community, highlight their homeland, and reflect on their experiences in Arizona.
Lino Garibaldi, a UA student from Panama and a graduate student in Art Education, explained, "I am grateful for the opportunity of sharing our stories with students at Doolen Middle School in Tucson, Arizona. I think the experience proves that honest, respectful and meaningful intergenerational conversations can foster empathy and understanding among nations and contribute towards the creation of a culture of peace. I feel that more than motivating students towards taking their studies more seriously, the conversation led to broader understanding and I think that is invaluable."
Noelle Sallaz, program director in the UA's Office of Global Initiatives, organized the visit. "We hope to build on the success of this event by creating more opportunities for UA international students to share their experiences with the local community," she says. Whether these opportunities occur inside or outside of the classroom, the idea of bringing the world to the community is one that the UA will continue to cultivate.