Studying Abroad with Global Experiential Learning (GEL) in Southeast Asia
Oct. 7, 2020
A junior majoring in Education and Spanish Translation, Reina learned about adapting to new surroundings and developing an open mind through the GEL program.
In the summer of 2019, Reina Salgado, a junior double majoring in Education and Spanish Translation & Interpretation, studied abroad in Spain. Reina also had the opportunity to do the Global Experiential Learning (GEL) program over winter break, during which time she studied in Southeast Asia. For Reina, studying abroad taught her to adapt to new surroundings and develop an open mind. Reina's experience was unique, so we asked her to tell us about her it, and why she recommends study abroad to other UArizona students.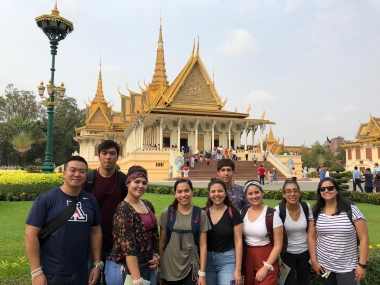 Q: If you could sum up your study abroad in ONE sentence, what would you say? 
A: I feel like my answer is kind of basic, but it was really eye opening and life changing. The two programs I went on were very different in many ways. The GEL program in Asia, specifically, was very unique because I definitely experienced culture shock, which to me in a way was unexpected, so it was a very momentous thing for me.  
Q: What was the most rewarding ACADEMIC experience you had while studying abroad?  
A: It was the toughest moment during my trip, but also the most rewarding experience. We were in Cambodia, and I knew nothing about that country going into this program. Cambodia was a bit difficult, emotionally, because on the first day that we were there, we went to a high school that had once been turned into a torture prison, and we took an audio walk-through tour around the campus and saw the prison cells and pictures of people being tortured. In the last room, there were all the skulls and bones that they could find on the property. The same day, we went to a large field about an hour outside of town which was known as the killing field. We had learned in class that the regime in Cambodia that was in-charge at the time, would take certain people from the torture prisons and execute them in the killing fields. It was the most rewarding experience for me because I love history and that stuff in general, and I got to see something that not a lot of people know about, and I got to tell people about that because I had no idea what had happened. A lot of this happened during the Vietnam War, because a small regime convinced everybody in the city that the U.S. was going to bomb them, so they fled the city to these prisons and then they got tortured by their own people. So sharing that with people was just like my little piece in making more people aware of what happened, so that it's not forgotten, and so that it doesn't happen again, because things like that sadly repeat. The whole experience of being there and seeing places and events that have shaped history was one of the most rewarding things for me while studying abroad.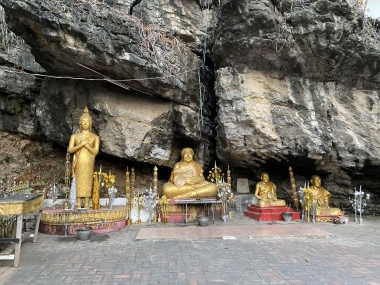 Q: What were the most MEMORABLE aspects of your study abroad experience?
A: Constantly traveling and having to adapt to wherever I was, because it was a completely different environment. First of all, Southeast Asia is very different from the United States. I was a little hesitant going to Vietnam. I remember thinking, "we are Americans, we had a war with these people. I don't know how they will react to us being here." Learning how to be respectful in different countries, with different customs, and adapting to the normal was very memorable. I love museums, and I love going to places that are meant for you to learn. I also really liked a lot of the things that we did with our local tour guides, in addition to going to museums and attending classes. They would always tell us things to do, and informed us about different places wherever we were that we should checkout. Lastly, another memorable part of my study abroad experience was how much we were out in nature. I am not an avid hiker or active person, and we went on several hikes and treks in Thailand and Laos. The hikes we went on were day long hikes, and those were some of the most amazing experiences ever. I was hiking through the mountains, and I was spending the day with elephants in Thailand, and that's just a dream come true.
Q: What kinds of OPPORTUNITIES did you take advantage of while abroad that would not have been available otherwise?  
A: I think the hands-on cultural experiences were a really big thing for me, because even if I did have access to information about what happened in that country before I went, it wasn't as impactful and eye opening for me. Learning those things hands-on, and being in those spaces where they happened, talking to locals whose grandparents and parents had lived through pivotal historical moments, was very enriching.
Q: Did you feel like you were able to interact with the host CULTURE in the country where you studied abroad? (If so, what are some examples?)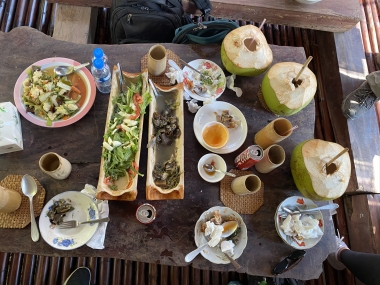 A: It was kind of a mixed situation depending on where we were. I think the place where I felt most involved in the local culture and with people of the host country was in Laos. Our hotel was in a little village, and you could walk around in the night market. You could go to the restaurants and walk around the village, and it was a touristy area. But at the same time, a lot of the activities we did there were very hands-on, and helped us connect with the people of the village. One day we went to a pottery village across the river and hung out with people making pottery all day and learned about what they do for a living. Everyone in the village knew each other, so when we were walking down the street everybody was just hanging out and talking to us, and the kids would run out and say hi. We also ate lunch at a restaurant that was in the courtyard of someone's house, and we got to hang out there. Our two tour guides were the best people ever. They were best friends, and they were so funny. They would always recommend good places to go. It reminded me a lot of Mexican culture and the small villages where you're like "Oh! That person has the best tortillas, and that person makes the best salsa, and that person has (fill in the blank)." That kind of thing. The whole familial focus of the village was really cool, and I think that's where we interacted with the culture the most. In other countries it was kind of more generic, and it wasn't necessarily interacting with people as much, because we were there for a short amount of time. I think that's definitely a big part of it, because during our program it was very hour-by-hour. Since we had so many things to do in Vietnam, and we had to drive places that took a really long time to get to, and we went to museums and would walk through places, I think those things took up a lot of time. It was also very dependent on the type of city setting. For example, Ho Chi Minh City, in Vietnam, is a metropolitan city and it's not like a village in Laos, where you can interact with local people, but the city was very touristy and there were a ton of things to do.
Attend the Virtual Study Abroad Fair now!
Q: What ADVICE would you give to a student considering studying abroad at this location?
A: I think one thing that's really important is that you need to be open minded going into this whole experience. During my first study abroad program, I had always wanted to go to Spain and that was a dream of mine since I was little, and I just went into it really excited and there were so many things that I wanted to do. But the GEL Asia program was very different from that. I applied to it to see what I could get out of it, because I wasn't going in with very many expectations, and with that I was able to be open to the experiences that I had. One day during the program, we were told that we would be hiking for a whole day and I'm not a hiker, but then I was like: Cool! As long as I don't die and my lungs don't collapse, I will be fine! *laughs* And that hike was the most beautiful thing ever, and we went swimming in the waterfalls, and it was such an amazing time. Just being open to hearing the stories of the local people there, hearing about their experiences, and making the most of every opportunity was a really big piece of this trip. Lastly, being respectful is very important as well. As Americans, we have our own ideas about culture and backgrounds, and putting yourself in a place where you have to adapt to new norms and culture requires one to be respectful. Doing all these things really helped me to have a good time while studying abroad.
Q: Are there any LESSONS that you took away from studying abroad?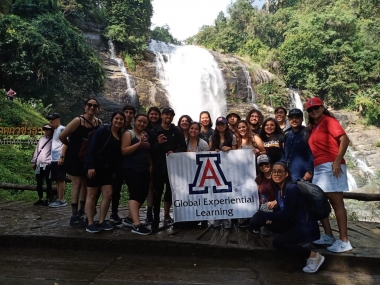 A: This is me being an education nerd, but I think the best way to learn things is to go experience them for yourself. If people ever have the opportunity to go somewhere that they didn't think that they would ever want to go, and then learn something that they knew nothing about, they should go for it. There are so many things out there that you don't know about until you go and find out from local people. Those are really valuable stories that I really enjoy. If I ever get a chance to study abroad again, or travel and do those things in all kinds of places, I will take that opportunity. And I hope others get that opportunity, too.
Q: Do you have a funny story from your time abroad? 
A: Vietnam was kind of a mess, because it was New Year's Eve and it was the first place stop for the GEL program. We wanted to go out and do something for New Year's but we had no idea what to do, other than that our tour guide told us there would be fireworks in the town square. So my group and I were like "ok, cool. Let's go to the square and look at the fireworks!" Ho Chi Minh city has a population of around 3 Million people, and all of those people were in the town square, so we were packed like sardines and we were trying to walk somewhere, and then we ran into another group of students who were on a study abroad program from Florida. There were so many people and it was hard for me to look in front of me because I'm five feet tall, and there were two very tall people in front of me, so I was basically breathing in their back because there was no space. So this one guy from the group of students we met from Florida picked me up so that I could breathe properly and see the fireworks, and I'm so grateful for that breath of air because it really was like being one of the jelly beans in the jelly bean jar. It was funny because I was literally on his shoulders and could see over the crowd, and I could actually see how many people were there.
Q: If you could go back right now, what would a DAY IN THE LIFE look like, that you would want to relive there?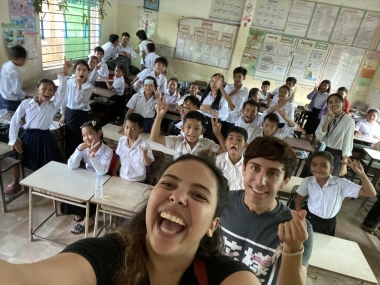 A: I'm very tempted to say the day when we hung out with elephants in Thailand, because that was a great day and a lot of fun. But I think I'm going to say the day when we went on a bike tour in Laos, and volunteered at a high school. We did a bike tour around the entire city and then we went to the UXO Laos museum, where we learned about the Vietnam War and how it affected Laos. In the morning, we were volunteering painting the school, and all of the kids were in school and they came out and helped us. They were teaching us little games and dancing with us, and playing soccer around the yard and stuff. Then in the afternoon, after lunch, we went back and finished painting. At the end, when we were done, the school had a ceremony with all of the elders of the village, who thanked us for the work that we had done. They performed a ceremony where they tied strings around our wrists for good fortune, safe travels, and blessings. Every elder went around to every person on our program and tied a string, so when we returned to our hotel that night we had around half of our arms covered with these holy strings. You're supposed to keep them on for at least three days, or until they fall off, so it was really cool to see how everybody was keeping those for so long. I know people who still have all of their strings and keep them in a box. That whole ceremony was so nice because it gave me the opportunity to give back to the people, and to see how much gratitude they had for us for doing that.
Q: What would you say to a person considering studying abroad? 
A: Do it! Do it if you can! Because I don't know another time when you're ever going to be able to go and just backpack around Southeast Asia, or live in Europe for two months. The whole experience of being there and having that direction, doing things instructed and supervised by people who know what they're doing and who really know cool things about the place, is so much fun and enriching. You can't have that experience by being a tourist and figuring things out on your own, little by little. Being there with locals and the study abroad team is awesome, and you get to know such cool people on your program, many who you become very close with. If anyone is considering studying abroad: do it, because it will be the best time of your life, and you will make some off the greatest memories ever!
Q: Is there anything else you would like to add?  
A: The GEL program is really special because it's mostly tailored to people who come from different backgrounds, and one thing we were told during orientation on our trip was that GEL was created because statistics show that most people who study abroad are middle upper class white females, and they wanted to provide those opportunities to people who don't necessarily fit that profile. I got a fellowship that helped me out, but I also used some student loans to pay for most of the trip. Even though I had to pull strings to pay for the program, it was all worth it. It was also really interesting, as a minority, to go on this trip with other people who identified with minority backgrounds, and to see that we were not necessarily the minority anymore. Our prevalent identity in those spaces was being American, and having a passport, and being able to go wherever we wanted. Our director on the program always told us that "you need to be comfortable in the uncomfortable," so having that opportunity as a student and being able to have those experiences was a crazy and fun ride. I think the GEL program is an amazing study abroad program to do, because it's just unreal and everybody should have that experience.
Start planning your study abroad experience today!
--> Attend the 2020 Study Abroad Virtual Fair.