Studying Abroad Creates Transcultural Understanding
Feb. 23, 2020
When Humanities, STEM, Languages, and Study Abroad come together, they can spark the imagination and create a path forward
Meet Mandy Han, a senior in the College of Humanities and the College of Engineering. As a middle and high school student in China, Mandy was always interested in STEM fields, even as she attended a school that focused on languages. She imagined what she could do in the world if she could speak different languages.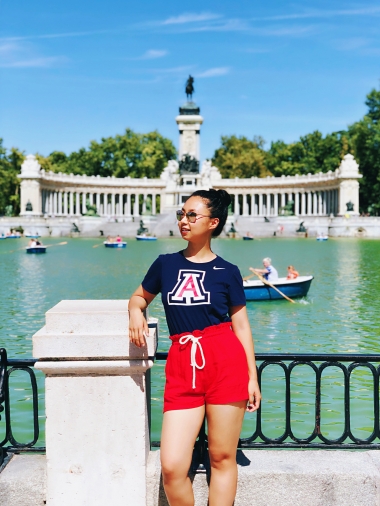 When she came to the University of Arizona, she began to envision ways to integrate languages, cultures, and science. This spring, she will graduate with double degrees, in German Studies (BA) and Industrial Engineering (BSINE), and a minor in Spanish. Mandy is creating innovative ways to integrate these fields as she moves forward.
Mandy came to the University of Arizona in 2015 as an international student, and Tucson quickly became home. Her focus on Industrial Engineering was sparked by her interest in conceptualizing ideas, optimizing processes, improving and implementing design, and imagining solutions, looking at ways to integrate business management and engineering.
She combined this way of thinking about the world with her interest in the humanities - history, languages, cultures. What got her to this point, where she can envision science, technology, engineering, languages, cultures, and begin to find her place in the world, has been her experiences studying abroad. She wanted to learn more from the humanities perspective, and this desire led to several rich and varied study abroad experiences that have taken her to Germany several times, and to Spain.
"I envision myself serving as an intercultural communication specialist, a bridge connecting the humanities and STEM fields. What really interests me is connection and understanding between people and cultures."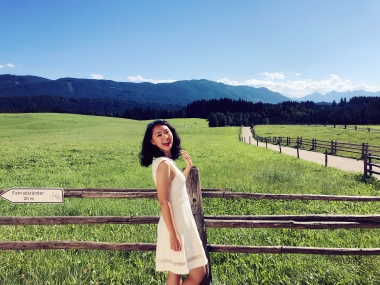 In 2017, Mandy traveled to Germany with the Study Abroad Leipzig program. The experience gave her not only solid language practice, but also challenged what she had thought she knew about the country and people. Mandy reflects, "It took me out of my comfort zone, forced me to examine some clichés, and gave me a new mentality." In particular, she noticed a very different culture within Germany that inspired her to go further into the humanities field, to study more deeply how history has shaped the contemporary world.
Upon returning "home" to Tucson, Mandy decided that she wanted to double major. "I began to see the Humanities as a powerful tool in STEM, and how language and culture inform the STEM disciplines."
Her second Study Abroad experience, again to Germany, was with the Research in Munich program in 2018. With stronger German language skills already in place, she was able to dive into an independent study project, researching regional history and culture in Bavaria, as well as linguistic diversity within Germany.
Mandy learned her favorite word, "aufschlussreich," while in Germany. It is a combination of two words: aufschluss (information, explanation) and reich (abundant, plentiful, rich), and together they mean things such as "revealing," "enlightening," "informative," and "illuminating" -- all words that express the wonder and excitement of learning and knowing.
During this study abroad trip, Mandy developed a taste for local, fresh breads, as well as the döner kebab - a common fast food in Germany, with Turkish origin. She also became keenly aware of a different approach to work/life balance in German culture, a clearer separation between the two, and yet an equal value of both in a person's daily life.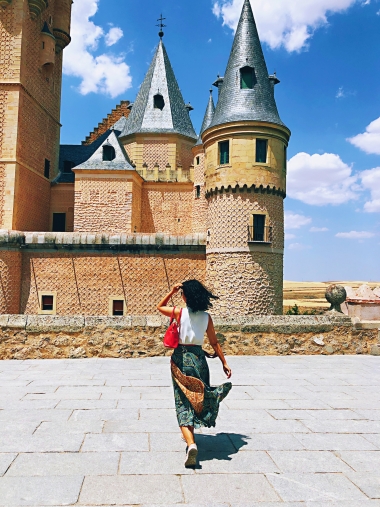 In 2019, after declaring a Spanish minor, which was inspired by her Spanish speaking friends, Mandy shifted gears and decided to explore a different country. She went to Spain with the Alcalá de Henares program, where she developed her Spanish language skills and advanced her intercultural competence. The program in Spain opened her eyes to another completely different culture.
"The presence of mosques and cathedrals, the history of clashing cultures, made it real," she explained, describing one of the many enlightening moments of the program. Learning about and understanding how these cultures had interacted with one another added another layer to her framework for what she wants to do in life.
She returned to Germany again in 2019, when another opportunity arose to study abroad. Mandy received a DAAD Scholarship (Deutscher Akademischer Austauschdienst - German Academic Exchange Service), as well as a Weinel Memorial Scholarship from the University of Arizona German Studies Department, to study language and research local culture in Munich. She also had opportunities to travel to neighboring countries. Her favorite train journey was from Munich to Zurich, and she recalls "not being able to look away from the window, for fear I might miss the next amazing view!"
Reflecting on all of her study abroad experiences, Mandy says, "Studying abroad has given me a new perspective. I'm more sympathetic towards others."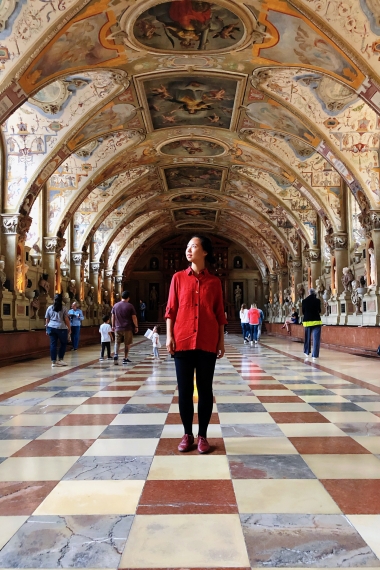 "I dealt with culture shock and reverse culture shock when I studied abroad or traveled back home to China, and then came back to Tucson," Mandy recalls. "Sometimes, I felt like I didn't belong anywhere, so I can really relate to people who feel like they don't belong. I can reach out to them to be their friend and to understand their struggle. That's the rewarding part of going through those challenges."
"The experience of being an international student and all of the opportunities I have had to study in different countries is more than I could have imagined."
As a Humanities Ambassador and an enthusiastic advocate for studying abroad and learning languages, Mandy envisions her role as a facilitator of conversations, bringing people together to imagine a better world. She believes that the humanities can help us understand today's issues, help us see how we got here, and maybe help us figure out how we can go forward.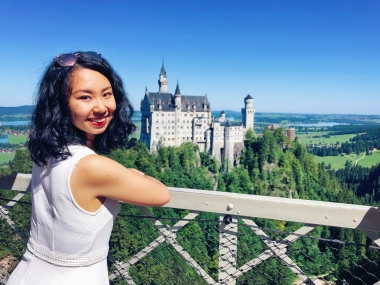 Mandy has been involved in the IISE (Institute of Industrial & Systems Engineers/International Council on Systems Engineering) Club on campus during her time as a student, helping to host the IISE Western Regional Conference in spring 2018.
When asked what she has learned about herself since coming to the University of Arizona, Mandy replies "I've learned where my passion is, because I have so many interests. I'm interested in STEM, I'm interested in humanities, but my true passion is people – to actively listen to them, to inspire them, to love and encourage them, and to learn from different cultures, different languages, and then combine all of those things." She continues, "Maybe it's my job to bring people together to have conversations, to really hear and acknowledge them, and help them find consensus and solve challenges from a place of love."
With a mind and heart devoted to creating connections and solutions, Mandy is currently working on two capstone projects before graduating in May. She applies her humanities approach to real-life engineering challenges, as the writer and purchasing lead for her engineering capstone project team. In the fall, she will begin the MA in German Studies program in the University of Arizona College of Humanities.
"In the life that I imagine for myself, I want to use my multilingual communication abilities to aid global cooperation in our increasingly complex and interconnected world through transcultural understanding and interdisciplinary leadership, emphasizing love and empathy each step of the way."
---
Imagine your own study abroad experience. Where will you go? Start planning now!
Are you ready to MEET WITH A STUDY ABROAD COORDINATOR?
Wondering HOW TO PAY FOR YOUR STUDY ABROAD?
Looking for STUDY ABROAD PROGRAMS?
Decided and just need to APPLY?
---
There are many Study Abroad events throughout the semester to advise students on how to choose and apply to a study abroad program, to learn about different program options, and for scholarship information and strategies for financing a study abroad experience.
Check the STUDY ABROAD CALENDAR for details and to see what's coming up!
---