International Education Week: Cultural Events and a Global Gathering at McKale
Nov. 5, 2018
International Education Week (IEW), a national celebration created by the U.S. Departments of State and Education, takes place at the University of Arizona from November 12 through the 17.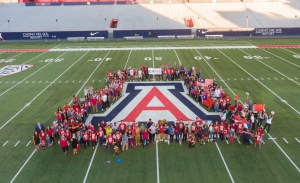 This year is more exciting than ever as the UA redefines what it means to be a global university. UA Global, which leads the international vision of the University of Arizona, is embarking on a comprehensive strategy to establish UA degree-granting locations abroad, to provide unparalleled support to international students, and to lead the nation in study abroad.
The UA is also committed to becoming one of the most globally-diverse national research universities. International Education Week is a way to honor that commitment. 
UA Global encourages the entire UA community to attend free, intercultural events throughout International Education Week. From a talent show that highlights our international students to a global pep rally on the court at McKale, there is something for everyone. Help us show the world that the UA is one of the world's most welcoming, diverse, and inclusive universities!
Be sure to tag #IEW2018 and #GlobalWildcats throughout the week to spread UA pride worldwide!
UA Global events for International Education Week 2018:
---
For more information about IEW, and a full list of events, please visit our website: https://global.arizona.edu/IEW.