International Alum, UA Employee Wins Emmy
Nov. 6, 2018
SBS alumnus and employee Anna Augustowska is the director, cinematographer and editor of "Our Desert Farms," which won a Rocky Mountain Emmy Award.
UA alumnus Anna Augustowska won a Rocky Mountain Emmy Award this fall for her documentary "Our Desert Farms." Augustowska, who received her master's degree in 2014 from the School of Journalism, is a multimedia design specialist for the UA College of Social and Behavioral Sciences.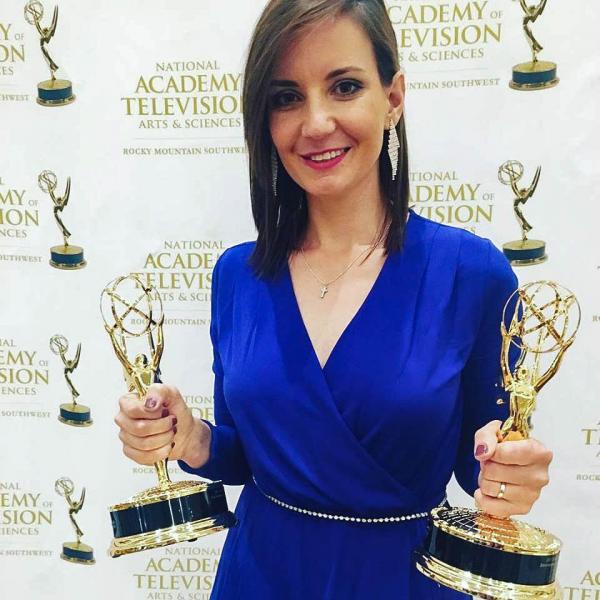 "Our Desert Farms" explores the issues of climate change, drought, and the global market through the lens of a local story on Central Arizona farmers, who are often seen as villains who should not farm thirsty or low value crops in a dry state. The film uncovers the challenges of staying in the farming business, the future of its practices, and implications for Arizonans.
"Climate change, agriculture practices and water shortages are such important topics to discuss, especially now in the times of the unknown future of this planet," Augustowska said. "The team of "Our Desert Farms" wanted to tell an emotional story that will start a conversation and will bring various stakeholders together to look for potential solutions."
Augustowska is the film's director, cinematographer and editor.
"I wouldn't be where I am without the School of Journalism," Augustowska said. "It gave me hands-on experience in visual storytelling, gear, editing software, all of that. They teach you ethical reporting and standards."
"Our Desert Farms" has other UA connections. Joshua Montgomery, who graduated from the UA School of Geography and Development, is the film's co-producer, cinematographer, and assistant editor. The film also includes interviews with UA experts, including Daniel Ferguson, director of Climate Assessment for the Southwest, Sharon Megdal, director of the Water Resources Water Center, and Jeffrey Silvertooth, an associate dean in the College of Agriculture and Life Sciences.
Augustowska previously received a Rocky Mountain Emmy-award for her short film "Donnie," which tells the story of Donnie Cianciotto, a transgender man living in Tucson, and his struggle to obtain reassignment surgery. Augustowska is currently turning "Donnie" into a full-length documentary.
Augustowska is honored that the Emmy judges found "Our Desert Farms" "worth this amazing award," and is grateful to the entire team who worked with her.
"I am very happy to be able to bring films like this one to the community and see such a positive response," Augustowska said. "The awards are nice indicators that as a filmmaker you are doing something right, but a good story and charismatic characters are ultimately what drive me."
---
Augustowska, a native of Poland, studied at the UA as an international student and visiting scholar.