Global Wildcats World Tour Goes Virtual in 2021
April 2, 2021
The annual recruiting tour—typically visiting 20 countries around the world—reached students in 134 countries when it went virtual last month.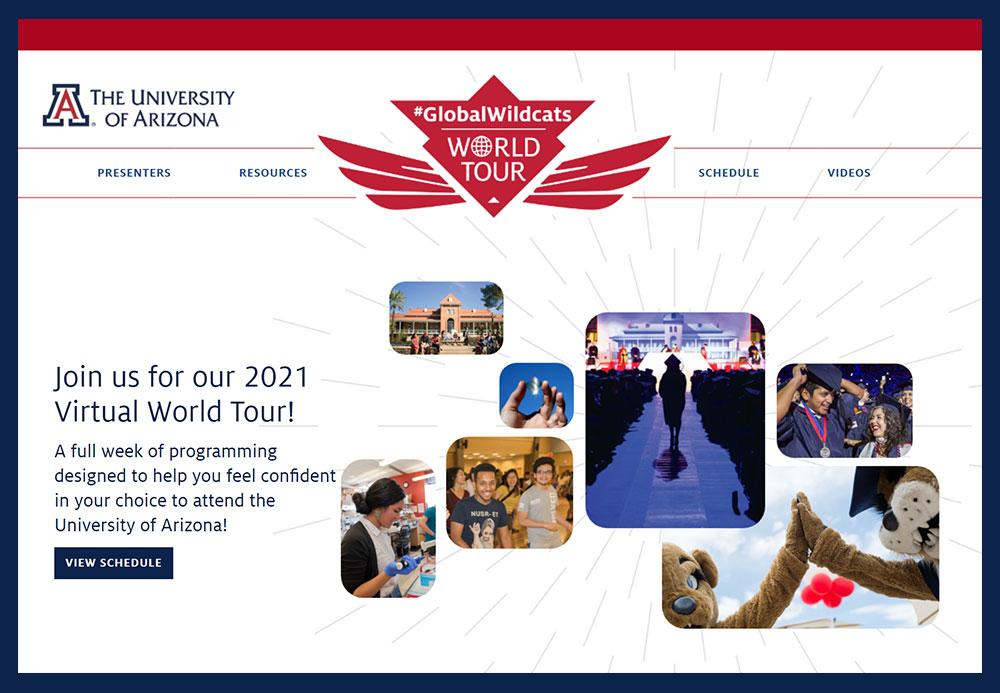 In previous years, the University of Arizona Global Recruiting team has made a Global Wildcats World Tour during March to connect with prospective and admitted international students in their own countries, to welcome them and make sure they are #WildcatReady. It has been the perfect chance for students and their families to get to know the University of Arizona, meet local alumni, and ask any questions they might have. Attendees have always been enthusiastic about these in-person events.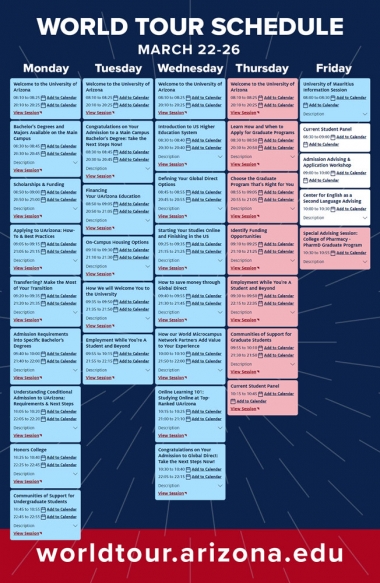 This year, in response to travel restrictions, the tour went virtual, and was held live online during the week of March 22-26, at worldtour.arizona.edu.
Global Recruiting hosted a full week of programming that was designed to help students feel confident in their choice to attend the University of Arizona. Through short virtual presentations and hands-on workshops, students learned about the application and enrollment process, our world class academic programs, scholarships, campus life, and more.
Each day of the schedule for the Virtual World Tour focused on a related range of topics. Sessions on Monday and Tuesday covered everything you need to know about the Main Campus in Tucson. Wednesday sessions covered the Global Direct (Online) option for international students. Sessions on Thursday focused on graduate study – master's, doctorates, and certificates, either on the Main Campus or offered through Global Direct. On Friday, there were Q&A student panel discussions, conversations about CESL, Advising and Admission Workshops, and some special interest sessions. Events were live throughout the week and recorded for those who could not attend.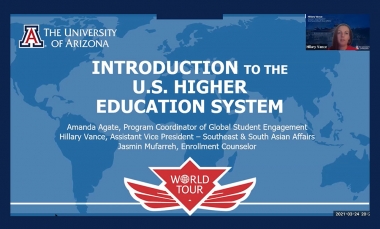 Invitations and outreach for the event over the preceding months led to 3,586 student registrants and 930 of their guests - parents, friends, teachers, and counselors. While many were interested in UArizona undergraduate (bachelor's) degrees, there was considerable interest in graduate (master's) degree programs, as well as CESL programs.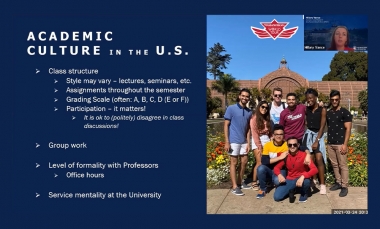 Those registered represented 134 countries and included 589 admitted students and nearly 2997 prospects expressing interest in Fall 2021 and beyond. Top countries represented in the registrations included Nigeria, Pakistan, Ghana, India, and Mexico and students were welcomed in many languages.
Registrants at the undergraduate level indicated a wide range of interests, these being the top five:
Engineering
Health Professions
Business
Science & Math
Arts & Media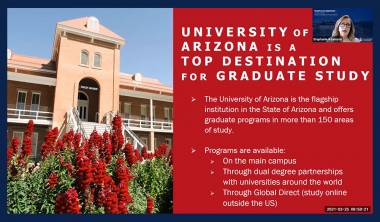 At the graduate level, registrants expressed interest in some of our highly-ranked degree programs, including these top five:
Full-Time MBA
Electrical & Computer Engineering (MS)
Computer Science (MS)
Mechanical Engineering (MS)
Management Information Systems (MS)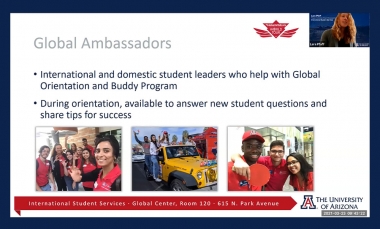 Live sessions were hosted by Admissions and Regional Directors, Global Recruiting Enrollment Counselors, and the International Students Services team, taking place via Zoom twice on each day to accommodate different time zones. Recordings were sent to all registrants, and links were posted on the Virtual World Tour schedule.
The implications of holding live events on an international scale becomes apparent when time zones must be considered, and the Admissions team planned for registrants who might not have been able to attend live. The recordings are the vital step to connecting with those students.
While the website experienced 1183 unique visits from 77 countries throughout the week of the tour, there have been 13,721 unique visits to the Virtual World Tour page, from 134 countries, in the few weeks since the page launched.
Hosting a virtual event can be a very efficient way to reach students, and the week-long Global Wildcats World Tour lays the foundation for future enrollment thru continuing engagement.
The session recordings and the robust collection of helpful documents and resources continue to be accessed and will remain available for students as they explore their opportunities at the University of Arizona.
"One of my favorite things about meeting students in person during our annual World Tour, is seeing their excitement and enthusiasm about their journey to becoming a Wildcat," says Stephanie Adamson, Assistant Dean, Global Admissions and Enrollment. "By adopting a virtual format, we were able to engage with more prospective and admitted students and families than ever before, and in many cases, much earlier in their search process. It is always rewarding for admissions officers to help demystify complex processes, and it was a highlight of my career to lead our teams in lighting a pathway for these future Wildcats out of the pandemic conditions."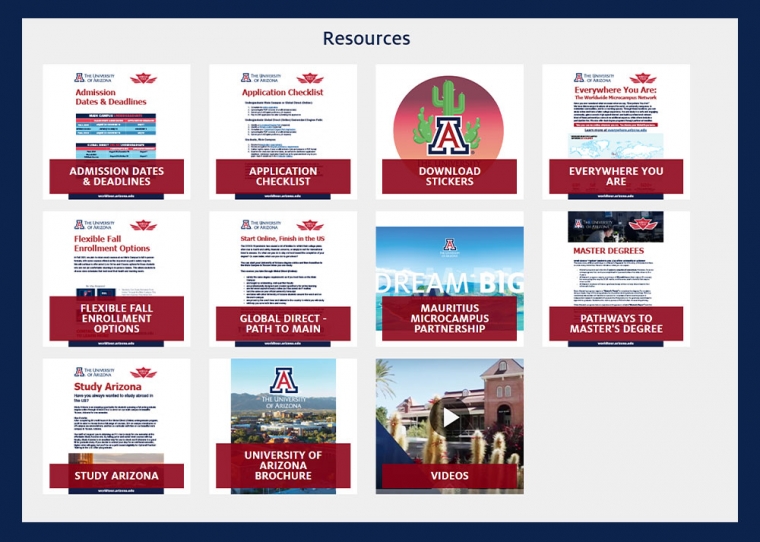 Colleges and departments at the University of Arizona and Microcampus Partner Locations are encouraged to share the Virtual World Tour link with international students who have questions or inquire about admission to the University.  
---
Meet the entire Global Recruiting Team, profiled on our social media accounts during the month of March (Facebook) (Instagram) in the "Meet the Global Recruiting Team" story highlight here: (IG story link)