International Student Gains Inspiration at the UN
To say Mohamed Alkatheeri is enthusiastic about the future is an understatement. The native of Abu Dhabi, United Arab Emirates, is graduating this May from the University of Arizona with a major in Mechanical Engineering and a minor in Math, but his interests run much further.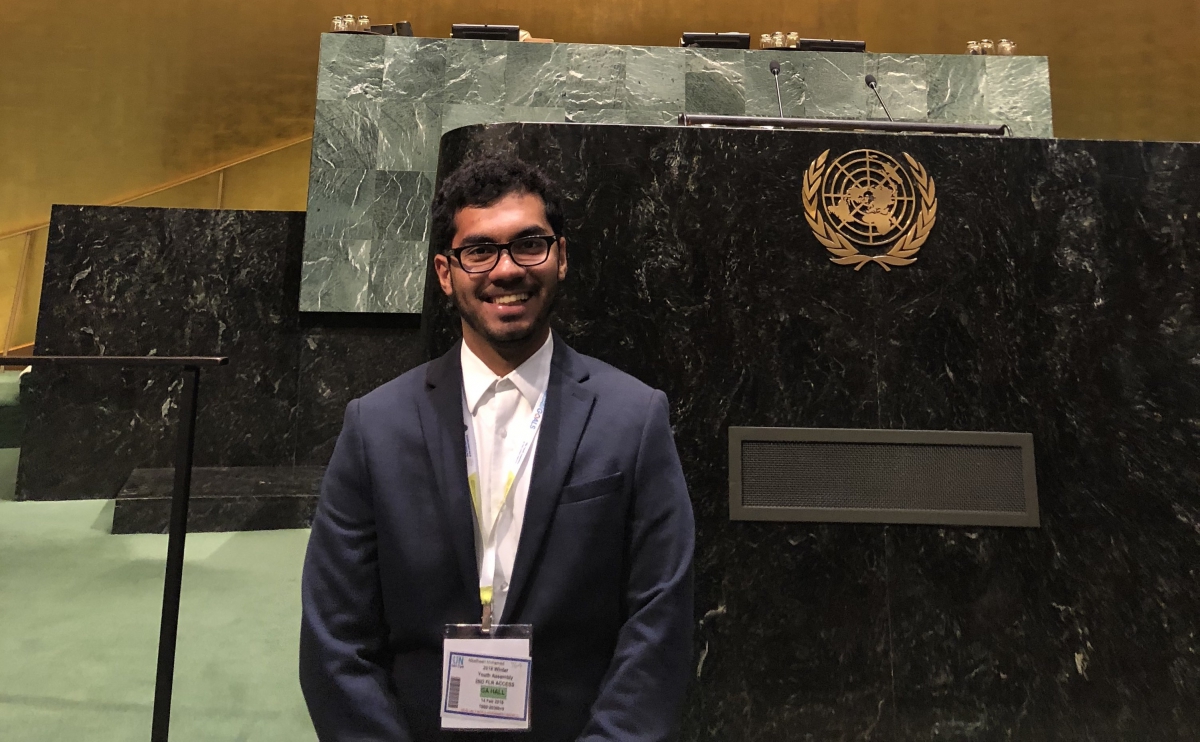 Volunteer work and a passion for renewable energy drive his motivation for a better world, and this spring he fueled his global ambitions by participating in the 21st session of the Youth Assembly in New York City.
Held at United Nations headquarters twice a year, the Youth Assembly brings together promising young delegates from around the world who are committed to community service and interested in sustainable development.
The theme of the 2018 spring Youth Assembly was "Innovation and Collaboration for a Sustainable World," building on environmental components of the UN 2030 agenda. As an engineering major with an interest in renewable energies, Alkatheeri was drawn to the theme, and with encouragement from a friend, he applied to attend.
"At the UN, most of the delegates I met were Political Science or International Relations majors. I only met one other Engineering major the entire time I was there," he said. "I met students from everywhere – from the U.S., Mexico, Brazil, Canada, England, and Argentina. I met students from Africa and Asia. Now I have their business cards!"
The Youth Assembly Experience
Alkatheeri said the delegates separated into groups based on their interests and attended sessions and workshops. They also took a tour of the UN General Assembly Hall, spoke with ambassadors from several countries, and listened to a speech by the president of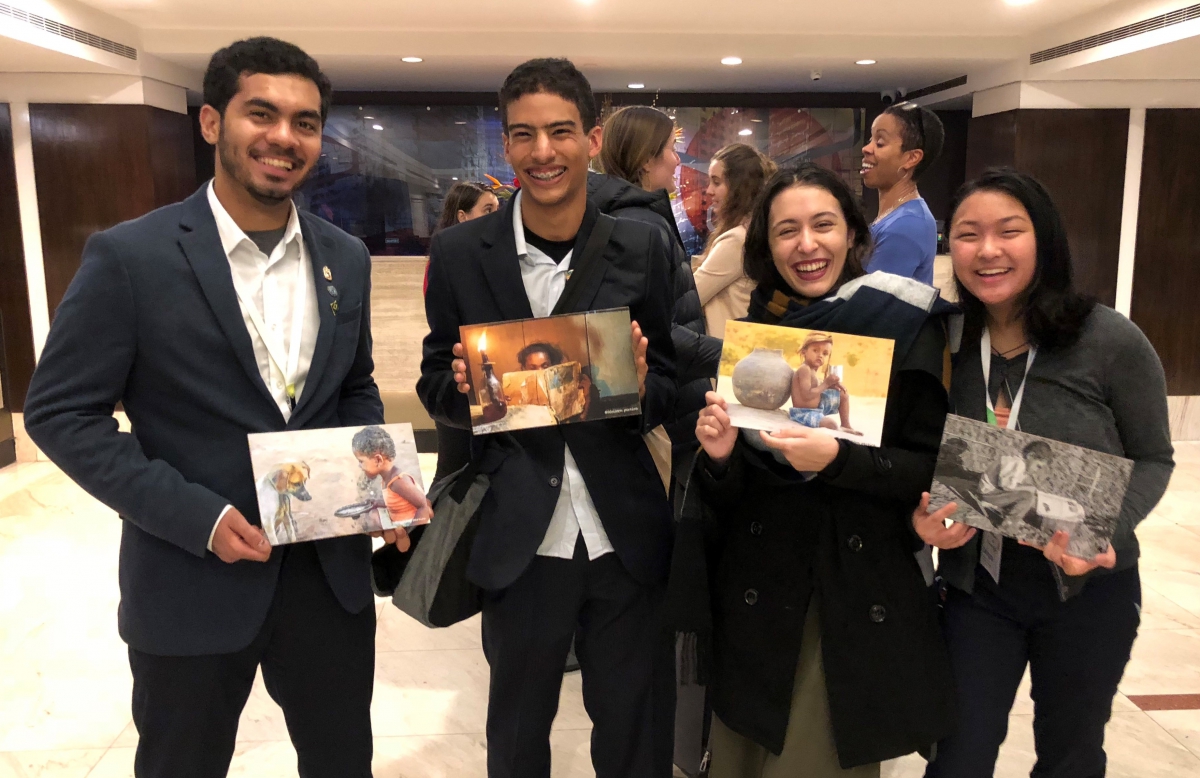 the UN.
"It motivated me! When you see youth from all over the world with something to talk about, it makes you want to start so many projects," said Alkatheeri. "I learned how to start an initiative, how to get it going, and how to promote it."
His fondest memory was meeting a fellow delegate from Brazil who took photos of families experiencing poverty in his community and then sold them to raise money for the individuals he photographed.
"His initiative is so simple, yet so impactful," said Alkatheeri. "He brought eight photos with him to the Youth Assembly, but was a bit shy of selling them. I really liked his mission so we became friends and I helped him sell the photos. We sold them in one hour!"
Alkatheeri also enjoyed visiting the UAE mission to the UN and learning about their priorities, including women's empowerment. It inspired him to consider global work in the future, including the UN Youth Delegate Program.
Volunteer Experience
Strong candidates for the Youth Assembly include those with a solid track record of volunteer experience. Before coming to the UA for his undergraduate education, Alkatheeri volunteered for eight years with Takatof, an organization that strives to create a culture of social service in UAE.
He also volunteered with the UAE Embassy in Washington, DC, and currently volunteers with the UA Refugee Project, a 100% Engagement Experience that provides opportunities for undergraduate students to volunteer with refugee resettlement agencies in Tucson.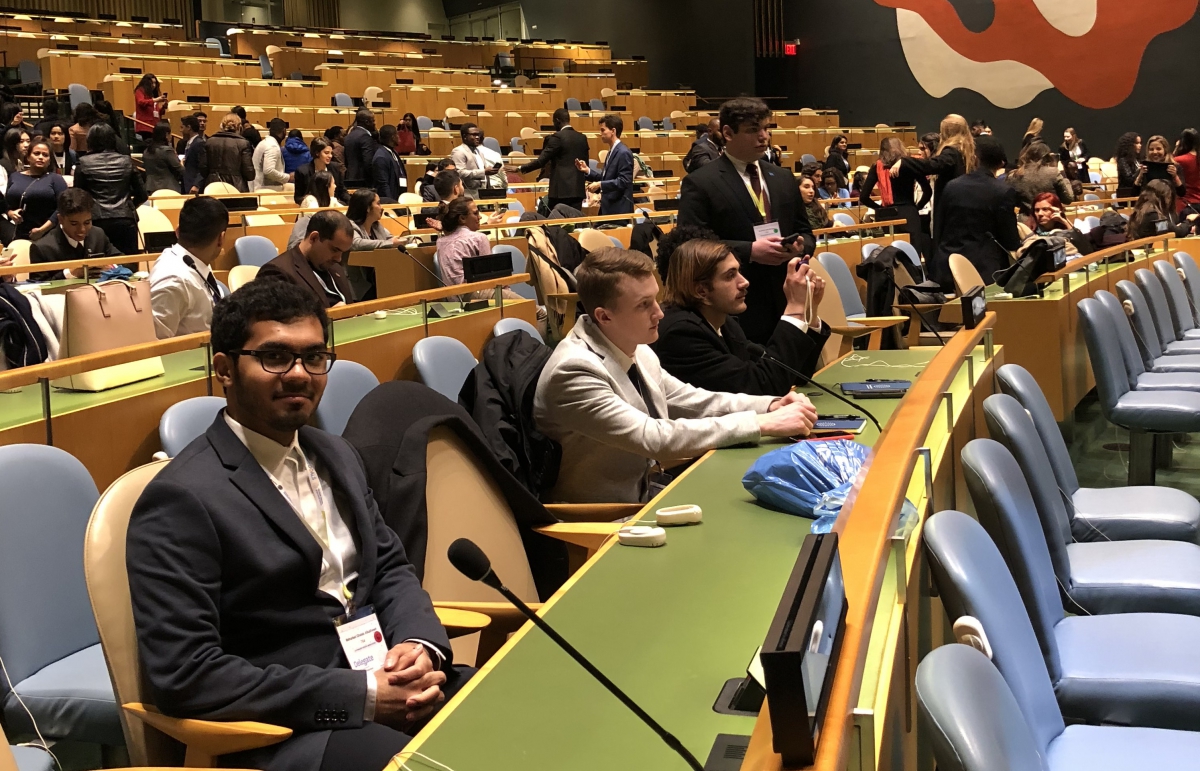 As part of the program, he serves as a mentor for a family from Burundi, helping them with grocery shopping, trips to the library, and appointments. He especially bonded with the oldest son, a teenager tasked with providing for his family.
"We hang out and I help him discover Tucson. He wants to go to school but can't at this time. I told him that one day he will go to school. It isn't about your age. You can go to school at any age. My mom graduated from high school when she was 38, so I shared that with him."
Alkatheeri credited his experience at the UA for helping him gain acceptance to the Youth Assembly.
"It's a surprising story how I ended up in Tucson. One of my high school English teachers in UAE was from Tucson and graduated from the UA. He suggested I apply," he said. "The UA has helped me so much, especially with the resources – student engagement, clubs, programs, and activities. I'm thinking about mentioning 100% Engagement to universities back home," he added.
Plans for the Future
Alkatheeri plans to couple his self-professed passion for engineering with his motivation to change the world once he graduates from the UA this May.
He is applying for a job with Masdar, a renewable energy and sustainable urban development company headquartered in Abu Dhabi. He hopes to work on Masdar City, a planned development designed to have a minimal carbon footprint and to serve as a hub for renewable energy companies.
"I am taking a renewable energy class right now, and I really want to work in renewable energy. That is my dream. In the long term, I want to focus on renewable energy in developing countries."
After returning from the Youth Assembly, he is more motivated than ever before.
"It was eye opening. I talked to people from all over the world. When I heard their stories, I felt that I could do more. When you hear about what other people are doing, it gives you passion to work hard."