Study Abroad Drop-In Advising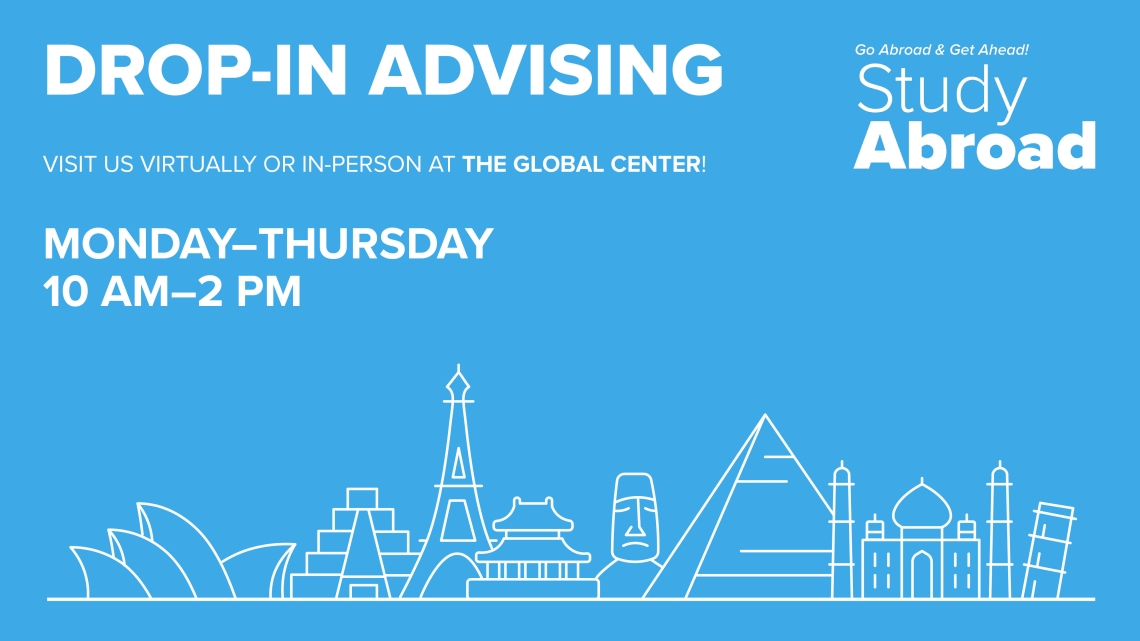 Interested in studying abroad but not sure where to start?
Our peer advisors are happy to help with any questions you may have about program locations, financial details, coursework, or anything to help fulfill your study abroad dreams!
For Summer 2022 we will be holding drop-in hours both in-person at the Global Center or online via Zoom. Click the link below to join our Zoom room, or stop by the Global Center to chat with us in-person.
When
10 a.m. to 2 p.m. Monday
10 a.m. to 2 p.m. Tuesday
10 a.m. to 2 p.m. Wednesday
10 a.m. to 2 p.m. Thursday
10 a.m. to 2 p.m. May 23, 2022
10 a.m. to 2 p.m. May 24, 2022
10 a.m. to 2 p.m. May 25, 2022
10 a.m. to 2 p.m. May 26, 2022
10 a.m. to 2 p.m. May 30, 2022
10 a.m. to 2 p.m. May 31, 2022
10 a.m. to 2 p.m. June 1, 2022
10 a.m. to 2 p.m. June 2, 2022
10 a.m. to 2 p.m. June 6, 2022
10 a.m. to 2 p.m. June 7, 2022
10 a.m. to 2 p.m. June 8, 2022
10 a.m. to 2 p.m. June 9, 2022
10 a.m. to 2 p.m. June 13, 2022
10 a.m. to 2 p.m. June 14, 2022
10 a.m. to 2 p.m. June 15, 2022
10 a.m. to 2 p.m. June 16, 2022
10 a.m. to 2 p.m. June 20, 2022
10 a.m. to 2 p.m. June 21, 2022
10 a.m. to 2 p.m. June 22, 2022
10 a.m. to 2 p.m. June 23, 2022
10 a.m. to 2 p.m. June 27, 2022
10 a.m. to 2 p.m. June 28, 2022
10 a.m. to 2 p.m. June 29, 2022
10 a.m. to 2 p.m. June 30, 2022
10 a.m. to 2 p.m. July 4, 2022
10 a.m. to 2 p.m. July 5, 2022
10 a.m. to 2 p.m. July 6, 2022
10 a.m. to 2 p.m. July 7, 2022
10 a.m. to 2 p.m. July 11, 2022
10 a.m. to 2 p.m. July 12, 2022
10 a.m. to 2 p.m. July 13, 2022
10 a.m. to 2 p.m. July 14, 2022
10 a.m. to 2 p.m. July 18, 2022
10 a.m. to 2 p.m. July 19, 2022
10 a.m. to 2 p.m. July 20, 2022
10 a.m. to 2 p.m. July 21, 2022
10 a.m. to 2 p.m. July 25, 2022
10 a.m. to 2 p.m. July 26, 2022
10 a.m. to 2 p.m. July 27, 2022
10 a.m. to 2 p.m. July 28, 2022