CAMPUS COUNTDOWN: Webinar & Advising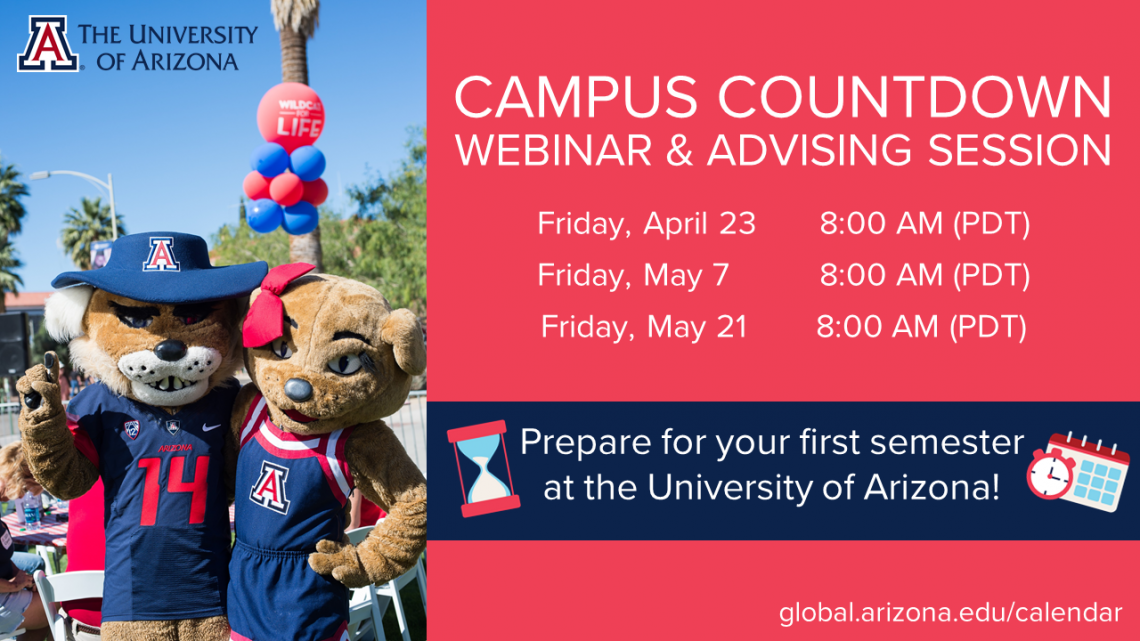 For Future Global Wildcats
Are you a future Global Wildcat? Would you like to stay on track to ensure a smooth start to your UArizona program? Do you have questions for UArizona? Would you like to begin getting to know UArizona students and staff?
Join us for the Campus Countdown webinar & advising sessions for:
A live NEXT STEPS presentation - just for admitted international students!
Drop-in Advising: Have your questions answered by UArizona staff
Online learning resources
Academic program information
The University of Arizona is excited to welcome and prepare admitted international students during the Campus Countdown series! Register for the Campus Countdown so that you can begin your degree with confidence. Everywhere you are, we are here for you!
Campus Countdown: Dates & Registration Links
When
8 a.m. to 9 a.m. April 23, 2021
8 a.m. to 9 a.m. May 7, 2021
8 a.m. to 9 a.m. May 21, 2021
8 a.m. to 9 a.m. June 4, 2021
8 a.m. to 9 a.m. June 18, 2021
8 a.m. to 9 a.m. July 2, 2021